Cheque bounced

Querist : Anonymous (Querist) 18 September 2010 This query is : Resolved

Hello Sir
i have taken a loan on credit card of Rs. 2 lacs but after some time, i found myself unable to pay the EMI, after negotiation with bank, the bank told me to convert full debt of loan & credit card bills into one account & they gave a repayment plan then i opt that & give them cheques.
i have paid 8 EMI but from april 2010 unable to pay EMI of bank. my case is in the 5th level. now they called me & telling that they will file a case against me bcz of cheque bounce.
they also told me to settle the case but they are asking for 70% of amount.

i want to know. wht should i do.
can they file a case on behalf of cheque issued by me.
some people told me that if they file a case then it will be dis-qualify on the first hearing if court come to know that it is a matter of personal loan on card.

Plz advice me as soon as possible.

virender
(Expert) 18 September 2010

if cheque amount is filed by u than u r only liable 4 cheque amount if its blank one than file a compliant in court of misuse of cheque by bank before it is deposited in bank and also make a stop payment request to bank moreover give notice to bank not to present the cheque in bank as the same is not going to encashed

Raj Kumar Makkad
(Expert) 18 September 2010

I cannot be agree with Virender. You have issued cheques against the loan amount and if your EMIs are not regular, bank is within its legal right to present any of those deposited cheques for payment and if it is bounced then you are liable under section 138 NI Act. If all loanees adopt the meathods Mr. Virender has told, the economic structure of the banks shall completely collapse and no amount shall remain to be disbursed to any needy person.

I advise you to deposit heavy amount to the bank and negotiate for the rest of the amount payment and obtain some more time for repayment.

Devajyoti Barman
(Expert) 19 September 2010

The bank certainly file a case for cheque bouncing and there is no question of 'dis-qualify' on the ground pf personal. Ypu are absolutely liable to pay the due to the bank.

PJANARDHANA REDDY
(Expert) 19 September 2010

THE NI ACT SECS 138 TO 147 ARE MADE TO KEEP THE EFFICACY OF THE BANKING AND COMMERCIAL TRANSACTIONS. BUT UNFORTUNATELY THE SECTIONS WENT TO THE HANDS OF PRAWN BROKERS/ PRIVATE LENDERS/ILLEGAL FINANCIER AND UN REG CHIT FUND COMPANIES WHICH NOT LEGALLY ENFORCEABLE LIABILITIES. HENCE THERE ARE MORE THAN 50LAKH CASES IN ALL THE COURTS OF INDIA.

BANKS ARE USING THESE SEC VERY RARE EVEN THOUGH IT IS A LEGAL TRANSACTION.

ANY HOW ,IF BANKS USE NI ACT WITH TRUE SENSE TO GET THE RECOVER OF MONEY IS ALWAYS WELCOME.

THE BANKING INDUSTRY MUST BE PROTECTED IN THE INTEREST OF COUNTRY.

FINALLY THE ABOVE REPLY OF MY LEARN FRIENDS(EXCEPT MR. VIRENDER) ARE ACCEPTABLE.

s.subramanian
(Expert) 19 September 2010

I agree with Mr.Makkad.There is no other way out.Or else you may have to face prosecution.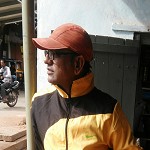 adv. rajeev ( rajoo )
(Expert) 19 September 2010

I agree with the Raj Sir. If you have already received a notice from the bank u/s 138 of NI Act then you must make a compromise with the bank by paying the cheque amount or one time settlement, You have to discharge your legally payable debt.

M/s. Y-not legal services
(Expert) 06 October 2010

Agree with mr.rajkumar
---
You need to be the querist or approved LAWyersclub expert to take part in this query .