I need legal help over a serious mistake I made.

Querist : Anonymous (Querist) 17 July 2010 This query is : Resolved

Recently I committed a blunder, in a fit of rage I contacted an individual over the phone and harassed him, such incidents happened multiple times over the course of 4 months but not on a regular basis. I found my self unable to let go of my anger and continued. In context to the calls, it would fall in the category of perhaps bullying a person. Then recently I received a call from a restricted no., the gentleman on the other line informed me that he was a police officer,he informed me that he personally knew the person whom i had been calling and his family, he went on to tell me that my activities had been brought to his notice, he was unclear on whether any charges were pressed against me or not although he did inform me that what I had done could be punishable under the law, he let me off with a warning, telling me to never repeat my mistake again, to the last he was unclear on whether any action was going to be taken and the only unambiguous statement was that I should not repeat my mistake and that this was his first and last warning. He also mentioned that they might monitor my cell phone activity for a while. I am aware of my mistake and at least it's moral implications, I agree that I was wrong and that my actions were shameful but I would like to clarify the following. What legal action can be taken against me? How do I confirm whether or not a FIR has been lodged against me? Is it possible that the police is monitoring my cellphone activity? I have received no written document informing me that my cellphone or any other utilities I use such as the internet are being monitored, does the police require to inform me in such a manner before monitoring me? Is it possible for the police to monitor my personal information and activities over the internet and other utilities such as Skype and my E-Mail? Is there any legal procedure through which I can determine whether my cellphone and all of my internet activity is being monitored by the police or not and if it is then from which date onwards? I would like to clarify that I have absolutely no previous criminal record and no blemish on my record, in this incident I acted contrary to my nature and out of anger.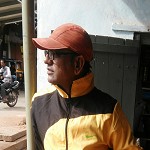 adv. rajeev ( rajoo )
(Expert) 17 July 2010

At last you realized your mistake, If you want to know regarding the criminal case filed against you, you have to take the information from the concerned court or concerned police station.

Querist : Anonymous (Querist) 17 July 2010

Thank you for your advice but the officer in question did not mention his name, rank or which police station he was calling from, instead he warned me to not repeat my mistake and did not mention whether there was a FIR lodged or not. So what should I do?

Devajyoti Barman
(Expert) 17 July 2010

Nobody is going to inform you about registration of any case against you till the action starts against you. Hence you are advised to immediately search for the FIR immediately from the court.

mahendrakumar
(Expert) 18 July 2010

Since you had not received any summons from any court forget the incident for the time being.

meanwhile making an appology to the person for the verbal abusing may be good act from your side.

Querist : Anonymous (Querist) 18 July 2010

Thank you for your reply Mahendra sir and Devajyoti sir. My dilemma in this situation is that the officer did indeed call me and proceeded to warn me, he made me promise that I would not repeat my mistake and informed me that he was a friend of the person whom I had been calling. He only stated that what I had done was illegal but he did not clearly mention whether I had been booked under any section. He did not inform me about which police station he called from. Sir, what is the procedure to inquire about a FIR lodged against me from the court?

mahendrakumar
(Expert) 18 July 2010

if they wanted to lodge an FIR on the issue,they would not have tried to warn you.

chances of filing a case would arise only,if inspite of the warning,you repeated the verbal abuse.

at anycase there is no point in trying to locate the FIR now.

if you are very keen to locate the same,enquire at local police station of your locality or at the place where the person you had abused staying.

Guest (Expert) 18 July 2010

Just follow Mr. Mahender Kumar's advise. The person who received your abuses and the person who warned, both are thorough gentle. Hence, they will not initiate any criminal action against you. Your insistence about knowing whether there exists any FIR raises a doubt in my mind that whether you are thoroughly reformed.

Querist : Anonymous (Querist) 18 July 2010

Thank you for replying to my post. Respected sir, I did not abuse him over the phone, we squared off over a personal issue and I warned him and I told him that I was excessively angry, I did step out of my bounds when I proceeded to bully him in a manner as I forced him to apologize repeatedly. I am repentant of my action, I only insisted on finding out about the FIR because I have had no previous experience with the law and I do not know how to go about this, finding out whether a case had indeed been lodged seemed to be the only thing I could think of doing. Heartiest thanks to all of you.

Guest (Expert) 18 July 2010

I know he has not filed FIR. Even then, you do not get peace till you find out yourself, you visit the Police station of the area where your calls were received and also the police station of the area where you made calls.
---
You need to be the querist or approved LAWyersclub expert to take part in this query .