Permanent Exemption from personal appearance due to distance

Querist : Anonymous (Querist) 18 November 2010 This query is : Resolved

My case in running in Madurai court (Tamilnadu) and I hail from Haryana. it is becoming day by day difficult for me to attend the hearing on each date. can i ask for permanent exemption from same court or i need to apply to High court directly for that.

Guest (Expert) 18 November 2010

on your behalf your advocate may file permanant exemption application ( also known as--- TAHUKMASANI HAJARI MAAFI) before the concerned court.... n its court's discretion to allow/reject the same.... (criminal matters)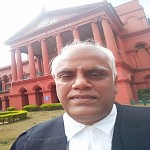 Parthasarathi Loganathan
(Expert) 18 November 2010

Courts generally disallow criminal matters

Devajyoti Barman
(Expert) 18 November 2010

File petition u/s 205 of crpc. On proper explanaton the exemption is granted as a matter of course.

Guest (Expert) 18 November 2010

section 317 Cr.P.C.

Kiran Kumar
(Expert) 18 November 2010

I agree with Mr. Barman that the application has to be under S.205. S.317 Cr.P.C has some different purpose.

have a look at S.317 Cr.P.C

otherwise Mr. Anonymous you move an application before the trial court, if the same is declined then only approach HC against the dismissal order.

M/s. Y-not legal services
(Expert) 18 November 2010

Yes. If you filed a petition under section 205 with a valid reasons mean your appearance may be dispensed by court. But distance only not enough for your prayer.

DEFENSE ADVOCATE.-firmaction@g
(Expert) 19 November 2010

It depends on the case whether criminal if so either under NI 138 or otherwise.

You must fight on this issue and go in revision if not allowed.

SC is libral in granting exemption but you have to attack on two fronts one your hardships and illegality of action against you.

Debasish Hota
(Expert) 19 November 2010

Ask your lawyer to proceed U/S 205 of Cr.P.C.

s.subramanian
(Expert) 20 November 2010

I agree.

Advocate Bhartesh goyal
(Expert) 20 November 2010

It is the discretion of the magistrate u/s 205,317(1)Cr.P.C, throughout or at any stage of proceedings in summons case where due to the far distance at which the accused resides or carries on business or on account of any physical or other good reasons the magistrate feels that dispensing with the personal attendance of the accused would only be the interest of justice.
Please note the citation : AIR 2001 S.C 3625 titled as M/S Bhaskar industries ltd. v/s M/S Bhiwani denim and Apparels ltd.

M/s. Y-not legal services
(Expert) 25 April 2011

Usually section 317 of cr.p.c allowed for condone the absence in a particular day only.. Like wise section 205 allowed by the magistrate in small cases only.. I mean if the punishment is fine only mean 205 petition will be allowed.. So you have to file a dispense petition before the madurai bench of madras high court.. If you can send me your case details.. If you need any help mean just contact me. Right now am practising in madurai high court only..
---
You need to be the querist or approved LAWyersclub expert to take part in this query .