Land illegally transferred by uncle

Q Slinger
(Querist) 31 October 2014 This query is : Resolved

Dear Experts: My uncle illegally transferred the land on to his name. The following explain in detail



- Land was under my grandfathers name and he died when my father was 2 years old. My father is the only son.

- My uncle (Grandfather's brother's son) (my father's cousin brother), filed false affidavits and gave false evidence that he is the only surviving son of my grandfather and got the land transferred to his name.

- We found out but filing case is too expensive for us so decide to approach Tahsildar in 2013. We also highlighted this scam to MRO, RDO, Sub-Collector, and Collector. Collector issued a directive asking Tahisldar to investigate the matter in Oct 2013 but he still has not done it. Every time we call him, he gives us an excuse.

- My uncle is in the process of selling the land



Questions:

1. Is there anything we can do to stop my uncle from selling the land? If yes, what is it?

2. Is there anything we can do to get the Tahsildar to expedite the investigation?

3. The Tahsildar is the one who transferred the land to my uncle's name. Now he seems to have colluded with them to prevent the investigation from happening which in turn is giving my uncle time to dispose off the land. Can I take any action against the Tahsildar? Can I file cases on him for corruption or dereliction of duty?

4. Who else can I approach to get this land issue solved? None of the officials are taking any interest in this matter although everyone is aware that the land was illegally transferred. Who is the higher authority I need to approach to get this matter resolved?

5. Can I take any action against my uncle?

6. What other alternatives do I have, other than approaching the courts?



Appreciate all the help.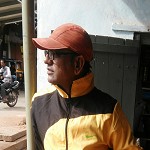 adv. rajeev ( rajoo )
(Expert) 31 October 2014

Your father has to file a suit for partition and seperate possession and in that case file an application u/o 39 r 1 & 2 of CPC seeking interrium injunction order against your uncle as not alienate the suit property till the disposal of the suit.

Rajendra K Goyal
(Expert) 31 October 2014

1. If you are of the view that the fake documents were prepared, lodge FIR.
2. You have to take the help of court, tehsildar would do any positive is doubtful.
3. Better take help of court, let law take its course on merits. If FIR lodged and during investigation tehsildar is found guilty, police may book him also.
4. Consult a local lawyer. obtain stay from court against sale of this land by your uncle.
5. & 6. Act as suggested above.

ajay sethi
(Expert) 31 October 2014

you will have to move court obtain injunction restraining uncle from selling the land . file suit for partition . unless you obtain a stay your uncle will not come for settlement

Devajyoti Barman
(Expert) 08 November 2014

rightly advised above...
---
You need to be the querist or approved LAWyersclub expert to take part in this query .