Equitable Mortgage

Guest (Querist) 09 March 2011 This query is : Resolved

If a property is put to equitable mortgage, there is no entry made in revenue record of that property. The purchaser is unknown of the fact and that cuse a great fraud some times and a serious litigation. Can a PIL or any other writ can be filed in court for mandating that there should be entry of all such matters in the revenue record as must at the time of execution?

bhagwat patil
(Expert) 09 March 2011

yes it will be better,and helpful to judiciary also to cut short the no. of litigations.

Guest (Querist) 09 March 2011

what to do then

RAJU O.F.,
(Expert) 09 March 2011

In the present system, there is no way to find out, as to whether there is any EM or charge, on property. In Tamil Nadu, stamp duty is compulsory (maximum Rs.5,000/) for creation of equitable mortgage; usually banks are registering also. It is better to take up with R B I or the Indian Banks' Association (IBA) to stipulate all banks and financial institutions, to register any mortgage of properties.

Guest (Querist) 09 March 2011

But, how the entry comes to Revenue Record, that is the point.

Any interested purchaser of the property should come to know before he goes for sale deed registration or otherwise, that the property is already under EM or charge.

Even if the bank gets registration of EM, it will not be entered in revenue record of concerned property, am I right?

R.Ramachandran
(Expert) 09 March 2011

All of you, in your anxiety are overlooking an important aspect in the whole issue.
All of you would agree that when equitable mortgage is created the original documents will be deposited with the bank or any other financial institution concerned.
Is it not expected of any purchaser to ask for the original documents from the vendor. If the vendor is not producing the original document, will not wake up the prospective buyer? If this minimum due diligence is not carried out by the prospective buyer, then no one can be blamed except the buyer himself.
THEREFORE, WHATEVER SOLUTIONS THAT YOU ARE TRYING TO SUGGEST ARE ILL-CONCEIVED TO SAY THE LEAST.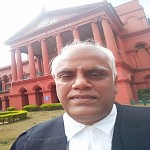 Parthasarathi Loganathan
(Expert) 09 March 2011

Since original documents to title will be deposited in the bank, in case of any application to the Registrar's office to issue duplicate or certified copies of original title deeds, then there must be a statutory procedure to mark this aspect in the Encumberence Certificate so that fraudulent EM is not created at a later stage.

Uma parameswaran
(Expert) 09 March 2011

Not entering in the revenue records may cause problem to the auction purchaser.If a property is auctioned by civil court in any other proceedings with out knowing the EM,then what shall be the right over the property to the auction purchaser? Amendment is needed to overcome the existing problem. At present Small scale banks are insisting for registration.

Guest (Querist) 09 March 2011

My friends must agree that some system should defenetly be adopted that EM must reflect in revenue reocrd after its execution. After all it will make better scene. Does it make any harm? I agree with Mr. Uma Parameswaram

RAJU O.F.,
(Expert) 10 March 2011

I hsve come across cases in which the purchasers of properties prepare two or three sets of Sale deed in stamp papers of requisite value and getting the 3 sets registered with the Registry. Even though Registry has to mark the second one as 'Duplicate'/ 'Triplicate' Sale Deed, all such sale deeds would look original. In many cases, EMs are created on the same property, at different banks and taken money. In the case of Sale Certificate through SARFAESI, registration is not compulsory and hence such Sale Certificate will not reflect in the EC.
---
You need to be the querist or approved LAWyersclub expert to take part in this query .