dismiss my 482 by high court

ravi anu ramraika
(Querist) 08 October 2010 This query is : Resolved

sir, i am accused in 138 case rs one lakh, i received first 138 notice through news paper publicasion. i chalanged cognigence in high court under section 482, but court dismiss it and suggess me to solve this metter under trial. sir i want go to supreme court, pls suggess me advocate in supreme court and his phone nos. a lot thanks for you, ravi ramraika my mob 09329288860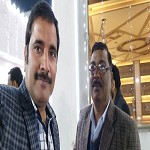 Sarvesh Kumar Sharma Advocate
(Expert) 08 October 2010

dear ravi,
follow d suggession of hon'ble h.c.
face d trail before d lower court.


s.subramanian
(Expert) 08 October 2010

What Mr.Sarvesh suggests seems to be good and practical.

Advocate. Arunagiri
(Expert) 09 October 2010

If you have strong grounds for quashing pls go the SC. If want the help of a SC lawyer please give me the details of the case. On going through your case I will suggest you a SC lawyer. forward your details to my email ID veluarun@yahoo.com.

B K Raghavendra Rao
(Expert) 09 October 2010

If the High Court has dismissed your petition under Section 482 of Cr. P. C. then there must be some strong ground for it. Normally, an accused is required to stand trial or if the crime is not prima facie he may file an application of discharge at his first appearance in the trial court. It was not necessary to go to High court.

However, if the facts suggest prima facie that there is no case for trial, you may approach Supreme Court.

bhupender sharma
(Expert) 10 October 2010

The only issue is service, u presume the service from the date of publication and put your appearence before the concerned court it should be better option and nothing else and more so the the supreme court is not sitting idealy that it will take up the trial case.

Guest (Expert) 10 October 2010

NANDKUMAR B.SAWANT.M.COM.LL.B.(MUMBAI),ADVOCATE
MOBILE.9960223100, 9271971251

e.mail.nandkumarbs@sify.com
e.mail.advocatesawantnb@yahoo.com
SIR,

YOU MAY KINDLY SEND THE COPY OF ORDER AND ALSO COPIES OF HC MATTER BY E.MAIL.WILL HELP YOU.
KINDLY NOTE THAT YOU MAY DEFEND YOUR MATTER AT LOWER COURT OR MAY APPROACH THE SUPREME COURT.
IN CASE YOU FEEL THAT THERE ARE STRONG LEGAL POINTS FOR DEFENCE YOU CAN SUCCEED.

YOU MAY KINDLY NOTE THAT SUPREME COURT MATTER MAY COST YOU MUCH MORE.HENCE KINDLY NOTE THAT YOU MAY FILE A DISCHARGE APPLICATION AT LOWER COURT ON VARIOUS LAW POINTS .YOU MAY SUCCEED.
KINDLY SEND DETAILS OR SMS OR CALL WILL HELP YOU.
GOOD LUCK.

M/s. Y-not legal services
(Expert) 11 October 2010

I agree with experts.. Nothing to say more..

MANISH
(Expert) 13 October 2010

I agree with my Ld. friends.

Still if you feel to go to Supreme Court. You may contact me at my e-mail address.
My cousin is an advocate - on - record in Supreme Court.
---
You need to be the querist or approved LAWyersclub expert to take part in this query .