bar council of india

T.V.Ramana Rao
(Querist) 12 August 2009 This query is : Resolved

A person who is working either in private sector or in Govt. sector can enroll as an adocate to practice. To my best of knowledge, it is not posiible, but i would like to know whether my stand is correct or not

charudureja
(Expert) 12 August 2009

Yes ur right. a person who is working in pvtor govt sector cannot practice and enroll as an advocate.

Kiran Kumar
(Expert) 12 August 2009

i agree with Ms. Charu Dureja.

for details pls refer to Advocates Act 1961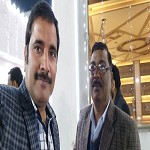 Sarvesh Kumar Sharma Advocate
(Expert) 12 August 2009

rao ,
yr best knowledge is more dn d sufficiant.

A V Vishal
(Expert) 12 August 2009

I agree with thw views of the members on private employment of advocates on rolls however,I differ to the views of the learned members expressed on the matter of employment with the state or central government, as the case may be, unless the employment is inconsistent with the BCI rules under the Advocates Act.

Section VII-Restriction on other Employments
An advocate shall not be a full-time salaried employee of any person, government, firm, corporation or concern, so long as he continues to practise, and shall, on taking up any such employment, intimate the fact to the Bar Council on whose roll his name appears and shall thereupon cease to practise as an advocate so long as he continues in such employment.

Nothing in this rule shall apply to a Law Officer of the Central Government of a State or of any Public Corporation or body constituted by statute who is entitled to be enrolled under the rules of his State Bar Council made under Section 28 (2) (d) read with Section 24 (1) (e) of the Act despite his being a full time salaried employee.
Law Officer for the purpose of these Rules means a person who is so designated by the terms of his appointment and who, by the said terms, is required to act and/or plead in Courts on behalf of his employer.


G. ARAVINTHAN
(Expert) 13 August 2009


My friend Vishal is right. He extracted the relevant portion of the Act

Guest (Expert) 13 August 2009

Rightly said by Mr. Vishal (As usual, he is an exceptional expert).

I would like to add a point over here in this aspect. Advocates with the due permission from their respective bar council can go for part-time employment (I think most of us are not aware of this rule!). I am providing the Section VII - Restriction on other Employments : 52. "Nothing in these rules shall prevent an Advocate from accepting after obtaining the consent of the State Bar Council, part-time employment provided that in the opinion of the State Bar Council the nature of the employment does not conflict with his professional work and is not inconsistent with the dignity of the profession. This rule shall be subject to such directives if any as may be issued by the BCI from time to time".

A. A. JOSE
(Expert) 13 August 2009

While I generally endorse all views expressed hereinabove, I would invite kind attention of Mr.Vishal and other experts to a reported judgement of SC, (2001)2 SCC 365 - Saatish Kumar Sharma v/s. Bar Council of Himachal Pradesh relating to Law Officers of PSUs,etc., and request to deliberate further on this issue, so as to have more clarity on the subject.

Somnath mukherjee
(Expert) 13 August 2009

The above view is correct

A V Vishal
(Expert) 14 August 2009

Dear Jose,

I have gone thru the said judgement and prima facie the rule is clear that the job must not be inconsistent with the role of an advocate, I strongly support the view of the Hon'ble HC.
---
You need to be the querist or approved LAWyersclub expert to take part in this query .