Urgent help: hc : criminal revision vs criminal appeal

Q Slinger
(Querist) 29 December 2014 This query is : Resolved

Dear Experts: Require urgent information for HC hearing tomorrow!



Facts of case:

1. In IPC 498a, police seized passports of A4.

2. Return of passport application (filed in Feb 2013 and decision in Apr 2013) rejected in Trial court stating to refile an application after framing of charges.

3. Appealed the same in session court (Filed in Jun 2013 and decision in Aug 2013) and session court upheld trial court decision stating to refile application after framing of charges.

Now this is where I require your help:

4. Lawyer filed criminal revision for passport return in HC (filed in Dec 2014), but section made a mistake and filed it under Criminal Appeal

Now the HC judge sitting on Criminal appeals bench states that he has no authority to judge over the matter that is clearly Criminal Revision matter. (Criminal Revisions are being addressed by another judge). However after my lawyer pleaded, HC judge mentioned that he would look into the matter see if he has the authority or if there is a possibility for him to judge over the matter.



Now, this is where I need your expert help,

1. How can my lawyer convince the judge (using any sections, articles, judgements etc) to state that he can judge over this matter.

2. Is there an appeal period time limitation from the time the session court gave the judgement to the time we filed our petition in HC.

3. Because the return of passport application was filed after a period of one year, can it be considered as appeal rather revision because the appeal period is over?

4. Are there any other sections of the law, constitution that we can invoke to show that our application for return of passport can qualify as a criminal appeal and hence the judge can pass judgement on it.

5. If all else fails, can we request this judge to give orders to the trial court for a speedy trial? Is there a process we need to follow?



All help is appreciated and thank you much in advance.

Devajyoti Barman
(Expert) 29 December 2014

In High Court every judge has its own determination/jurisdiction and he can in no circumstances sit over matters on which another judge has determination.

If the appeal is not maintainable the judge has no option but to dismiss it. It can in no way hear the matter converting it into a criminal revision.
Your lawyer xna however plead him to convert it into criminal revision and then release it so it can be assigned to the particular judge which has determination to hear criminal revision.

ajay sethi
(Expert) 29 December 2014

agree with Mr barman

Rajendra K Goyal
(Expert) 30 December 2014

Agree with the expert Devajyoti Barman.

Q Slinger
(Querist) 30 December 2014

Update guys,

The AP HC judge checked the case to CJ and CJ rejected the request stating that if they permit this now, it will open a flood gates...so..the case has now been referred to the proper judge presiding over revision matters.

Thanks for all your help..appreciate the effort.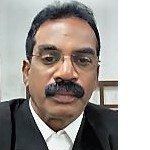 T. Kalaiselvan, Advocate
(Expert) 31 December 2014

Your update on the issue is appreciable, go ahead with the revision and post the updates as and when you find one.

Q Slinger
(Querist) 01 January 2015

The appeal got converted to 482 petition and is currently before the judge overseeing the 482 matters.

as the HC is now closed, will know more on or after the 19 of Jan.

Once again, this group never fails to impress me with its vast knowledge.

Regards

---
You need to be the querist or approved LAWyersclub expert to take part in this query .