Stay of suit as per cpc

Suraj Kumar
(Querist) 25 September 2022 This query is : Resolved

Sir,
1) My wife was filed 125 CRPC on year 2013 which was dismissed for default.
2) Thereafter she is again file a case for restoration of dismissed case.
3) That restoration case was also dismissed for violation of court order.
4) She again file 125 Crpc wherein interim maintenance is allowed.
5) As per section 10 of CPC:
Stay of suit.—No Court shall proceed with the trial of any suit in which the matter in issue is also
directly and substantially in issue in a previously instituted suit between the same parties, or between
parties under whom they or any of them claim litigating under the same title where such suit is pending in
the same or any other Court in 6
[India] have jurisdiction to grant the relief claimed, or in any Court
beyond the limits of 6
[India] established or continued by 7
[the Central Government 8
***.] and having like
jurisdiction, or before 9
[the Supreme Court].

Sir,
Can I go to ADJ court for stay of 125 CRPC ?


Dr J C Vashista
(Expert) 25 September 2022

The maintenance case is stated to have been filed under the provisions of Section 125 of the Criminal Procedure Code, 1973.
Section 10 of the Code of Civil Procedure, 1908 is inapplicable in the instant case for consideration / grant of stay on proceedings by an Additional District Judge (Civil) in a criminal case.

Advocate Bhartesh goyal
(Expert) 25 September 2022

You have misread the sec 10 cpc, Sec 10 cpc does not apply in your case it applies in case when previously instituted suit between the same parties is pending in any court whereas no such suit/case is pending.you can challenge the interim order on quatum of maintenance.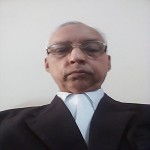 R.K Nanda
(Expert) 30 September 2022

CPC provisions are not applicable to 125 crpc case which is governed by crpc.
---