Regarding Jurisdiction of Practice

Mrudula
(Querist) 06 May 2009 This query is : Resolved

sir

Our Property is situated at chhattisgarh. and all the parties are residing at Maharashtra, however, the legal notice has been sent by the Advocate residing at Jabalpur(M.P.)My question is how far the advocate has jurisdiction to send the notice beyond the state?? irrespective of the location of property as well as Party.
Can he plead in the high court of different state? Plese guide.

Y V Vishweshwar Rao
(Expert) 06 May 2009

madam !

I am of the View that issuing a Notice is not Practice in Court. The Notice is issued from the Office of the Advocate .
The said Advocate need not be an advocate from the palce where the proerty is situated.

PRAKASHCHANDRA MARU
(Expert) 06 May 2009

madam
advocate can appear in the differnet courts as per procedeure followed by the concered lawyer as per the rule of various high court
further i agree with the opinion of ld.y.v.advocate


A V Vishal
(Expert) 07 May 2009

In view of the below two sections, I opine that one of the ingredients to practise includes issuance of notices on behalf of clients, hence, it is not proper for an advocate to send a notice where he has no jurisdiction to the subject property or to the place where the cause of action arose. Further, he cannot appear in any other court under whose jurisdiction he is not enrolled.

S.25 of the Advocates Act, 1961: An application for admission as an advocate shall be made in the prescribed form to the State Bar Council within whose jurisdiction the applicant proposes to practise.

45. Penalty for persons illegally practicing in courts and before other authorities: Any person who practises in any court or before any authority or person, in or before whom he is not entitled to practise under the provisions of this Act, shall be punishable with imprisonment for a term which may extend to six months.

I seek views of the learned friends in this matter, kindly elucidate your replies with proper interpretation of the act





sanjay singh thakur
(Expert) 07 May 2009

I agree with the view of Mr.Rao.

Ashey
(Expert) 07 May 2009

i agree with Mr. AV Vishal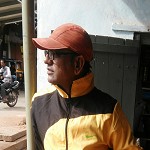 adv. rajeev ( rajoo )
(Expert) 07 May 2009

There is no bar to an advocate to issue notice to a person who is residing out side state.

Guest (Expert) 07 May 2009

An advocate can appear in any court of law (other than his practise state) with due permission by the Court;

As far as issuing notice is concerned, there is no jurisdictional limitations; (I have handled several legal notices/reply legal notices from Kerala Advocates for vehicle finance cases at Chennai)

Swami Sadashiva Brahmendra Sar
(Expert) 07 May 2009

Sorry mr. Vishal ! plz refer to s. 30 of Advocates Act which authorises an advocate to practice in all courts in india including J&K and supreme court. in my opinion,s. 25 relates to ordinaly place of practice and jurisdiction of state bar council.

A V Vishal
(Expert) 07 May 2009

Dear Tripathiji,

The opening of S 30 says"Subject to provisions of this Act, every advocate whose name is entered in the State roll shall be entitled as of right to practise throughout the territories to which this Act extends, -", so how has it to be interpreted, does S.25 be rwt with S.30 or separately?
Please Clarify

---
You need to be the querist or approved LAWyersclub expert to take part in this query .