Domestic violence act

Querist : Anonymous (Querist) 17 August 2021 This query is : Resolved

my estranged wife has filed domestic violence case against me in the year 2018. earlier we had mediation at the mediation centre of the court where we decided to live together.There she voluntarily admitted that her complaints are false and apologized for those on an affidavit signed by herself, her advocate and attested by the oath commissioner. parties did not live together. later she used same false complaints in her domestic violence case.I have file application for case dismissal on this ground. she has filed her reply on another affidavit stating that her complaints are true. can i filed rejoinder to my application for case dismissal along-with relevant evidences to defeat her case.
thanks in anticipation.

P. Kumar


Dr J C Vashista
(Expert) 17 August 2021

Did you move application under section 340 Cr PC for filing false affidavit ??
What is the opinion and advise of your lawyer, proceed accordingly.

Advocate Bhartesh goyal
(Expert) 17 August 2021

No, There is no provision to file rejoinder of application. This is not the stage when case may be dismissed on an application .You have to disprove allegations made against you by cogent evidence.

P. Venu
(Expert) 17 August 2021

Yes, you may move a application under Section 340 CrPC.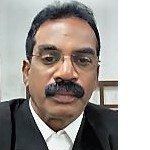 T. Kalaiselvan, Advocate
(Expert) 04 September 2021

First of all you should allow the case to be posted for trial/enquiry. During the trial proceedings you may cross examine her on the basis of the affidavit she had already submitted and extract that she had filed the case with false allegations which is established through her affidavit, you can get the affidavit marked as exhibit from your side.
After she admitting the affidavit, she can be held to have perjured the law, hence liable for the consequences.
---