Transfer Order

Rima
(Querist) 06 March 2010 This query is : Resolved

I am working in SBI in clerical post, In a meeting one male employee being arrogant used abusive language against me and pushed me, and when I fell down he snached my mobile so that I could not call any body. Branch Manager was present at the meeting.
I complained to police but they have done a routine inquiry and registered a general diary only.
I also complained to Higher authority of SBI and there was a departmental inquiry. Unfortunately 7 days latter I received my transfer order from the higher authority, I feel victimised. I have been transfered in a branch far from my house.
Can I complaint to National Commission for Women against my transfer order?
What step I can take against my transfer order?

Y V Vishweshwar Rao
(Expert) 06 March 2010

The Transfer is not proper . You can submit before the Commission for Women.

Raj Kumar Makkad
(Expert) 06 March 2010

No misbehaviour with any lady-folk can be made at her work place. Whatever has been done against you is squarely covered under this definition so immediately move to National Commission for Women and you can also go to court against such employee who misbehaved with you, if police has done nothing in your case.

Kundan Kr. Singh
(Expert) 06 March 2010

you can not challange the transfer order in national woman commmission but you can made complainant against deliquent officer before national women commission.

Devajyoti Barman
(Expert) 06 March 2010

In the first place the Women Commission can neither prosecute the offender nor pass any judgement over the issue of transfer.
If order of transfer is the direct fall out of the recent offence then you could move the
Central Administrative Tribunal challenging the order of transfer.
As far as no progress of your complaint with regard to the said offence is concerned you can file an application before the appropriate court of Judicial Magistrate u/s 156(3)of CrPC bringing the allegations as happened. Take help of a local lawyer.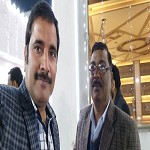 Sarvesh Kumar Sharma Advocate
(Expert) 06 March 2010

transfer is a policy of d concern so it is tipical to challange it directly.
but misbehaviour is always punishabe ,& u told dt a beat report(registeration complaint in to general diary)or n.c.r.
wht ever it is!has been registered by d police,
you just ask from police and take a copy.
if it is n.c.r.dn go to d court in 155(2)cr.p.c.
other wise file 156(3)as suggested avobe.
fight 4 justice.
and dn wth dis ground you file stay on yr transfer order.



Guest (Expert) 06 March 2010

I do agree with Mr Barman.
---
You need to be the querist or approved LAWyersclub expert to take part in this query .