right to live with dignity

B.B.R.Goud.
(Querist) 07 April 2009 This query is : Resolved

as our India is rated as top one ( Rs 15372 Billion Crores as per the media reports ) in black list: highest black money accounts in swiss bank; can we file a case in supreme court or International Court of justice, praying the right to live with dignity under Art 21, by transfering the total black money in to our govt of India account.
Is it possible/practicable? If so how?

Guest (Expert) 08 April 2009

Yes Sir. You are totally correct. If the black money is brought in from foreign banks, the GOI can utilise it in social sectors, for employment generation, construction and running of schools and hospitals and primary health centres.

Successive govts. have no inclination to do that because, first of all the some members of the main political parties and big bureaucrats and big industrialists have those accounts. Secondly, most of the political parties contest the election from the financial contributions received from them.

Not only under the provisions of the Constitution of India but also under the provisions of various economic statutes, we can carve out a case before the hon'ble Supreme Court to achieve the purpose. But, the S.C. attitude towards this issue is not encouraging.

There was a case before the S.C. There are huge loan defulters of the nationalized banks and most of them are prominent industrialists having connections with big politicians. Due to their default, these nationalized banks have been incurring huge losses and they may become bankrupt. The prayer before the S.C. was to direct these banks to publish the names of these huge loan defaulters. No appreciable result came out of this case and the Court was not so enthusiastic. At the same time, the officers of these banks are hounding the poor farmers of Vidarbhar in recovering small agricultural loans.

Hiralal Das
(Expert) 08 April 2009

I do agree with view and/or valuable opinion of our ld. member/friend.
Thanks all of you.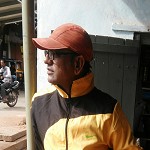 adv. rajeev ( rajoo )
(Expert) 08 April 2009

Our politicians have got so much of black money. If it is used and if it is recovered from them and deposited in the bank our indian loan will be cleared. U can file a case in the supreme court. But in my opinion it is not easy to recover the entire balck money because we are ruleing by the politicians who are not at all interested to develop our country.

B.B.R.Goud.
(Querist) 10 April 2009

thank you one and all for your valuable suggestion, by which one enthusiastic and energetic person can move forward.
i am very thankful to you all.
---
You need to be the querist or approved LAWyersclub expert to take part in this query .