Neighbour encroaching on my plot

Guest (Querist) 11 July 2010 This query is : Resolved

A 2-storey building encroaches on a part of my plot. The size of encroachment is approximately 2 square meters (according to civic body's survey).
However, the civic body carried out another demarcation survey in my absence and claims that the encroachment has now been removed.
I have obtained this survey report through RTI application. It is a blatant lie. The encroacher had already scraped the plaster from the walls to show less encroachment (at the time of first demarcation survey), and it was not possible to reduce the encroachment further.
Additionally, the second floor is misaligned and protrudes even more into my plot, but the demarcation only measured at ground level. (They use crude sticks and stones and one measuring tape....they don't even have proper equipment to carry out demarcation surveys).
The Town Planner has written to me that the encroachment on top floors will be removed (but when? by whom?) and in another letter the Town Planner has claimed that there is no encroachment at all, according to a 3rd survey which was also carried out in my absence.
As you can see, they are a bunch of bribed pigs.


I requested demarcation survey to be carried out in Feb 2008, so that is the first official record that I am aware of encroachment. The building which encroaches on my land does not have completion or plinth checking certificate either.
I wrote to the Town Planner, not to grant completion certificate to the structure which is encroaching on my property. But they insist that they cannot withhold completion because the encroachment does not exist.
I have interviewed 5-6 lawyers, but their approach is to ask me to
leave my papers (photocopies) with them and give them the money, to proceed in ways they deem fit. I want them to discuss with me first how they will approach my case.

One lawyer delayed my case for several months by giving me false case number and insisting that he was attending the dates, when in fact the case has not even been registered.
Notices have been sent.

I want to give my case to a competent lawyer.
Uma
9881365645

Devajyoti Barman
(Expert) 11 July 2010

The case papers would certainly help to reach to a definitive conclusion.
Anyway from your current information what I could understand that it is a good case for declaration and for mandatory injunction to remove the encroachment.
That apart if the Town Planner has opined that there is indeed an encroachment but siiting idle over it then you could file writ in the nature of Mandamus for obtaining appropriate direction upon the Municipality ti start demolishing work.
For a better reply of your case further details are always necessary.

Devajyoti Barman
(Expert) 11 July 2010

The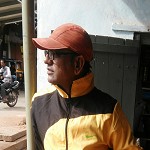 adv. rajeev ( rajoo )
(Expert) 11 July 2010

I think this is before 2008 case. No case is filed by you.
When there is an encrochment you could have filed a suit for mandatory injunction against your neighbour and could have filed an application before the court to appoint a court commissioner to make the measurement of the property to know how much your property is encorched, but unfortunately nothing has been done so far. Time limitation to file a suit for mandatory injuction is two years from the date of knowledge.
Sio it is necessary to know when you came to about the encroachment.
If it is more than 2 years you don't have any case.

Jithendra.H.J
(Expert) 11 July 2010

I agree with Rajoo, herein the cause of action is started in 2008 i agree, but it can be stated in the plaint that it started when she obtained information through RTI

Guest (Querist) 12 July 2010

Dear Adv Devajyoti Barman,
Thank you for going through my query and your helpful reply. I will follow your recommended course of action.
Kind regards,
Uma




Guest (Querist) 12 July 2010

Dear Adv Rajeev,
thank you for your prompt reply I am not sure if the time limit is 2 years or 3 years I will check the same.
Kind regards,
Uma
---
You need to be the querist or approved LAWyersclub expert to take part in this query .