Neighbor house causing us lot of problems
Babu Arumugam
(Querist) 19 November 2023 This query is : Resolved

Dear Sir/Madam,
I live in Erode in my own house. We have neighbor , who is always creating problems to us. I will list out problems caused by them. And the lady in the house always starts to shout and we also shout at them.

1. They have the cloth beating stone, which is facing against our house and when they beat the cloth, the water of the dirty cloth falls to house. No one will allow other house dirty water falling in to our house. Stone is faced east wards, where our bedroom is present. (this stone is at the back side). We have compound in the middle, but still water falls, to my house, as the height is not high. We have told them several times, but still they are accepting to change the stone south direction.

2. At front side, they have pipe, and they will again wash some dirty cloths, and drain the water outside, which will again come to my front side of the house.

3. They are growing a mango tree, which kept 2.5 feet from the compound wall, we have told them severals times that they are growing near by our compound, but they have kept away from their house.

The regarding these issues, my mother was asking maid not clean cloths, our side, because of water falling, also we have told several times remove the mango tree, as near to our compound will cause big issues in future, but they were not listening to it.

The lady, who is too much irritating, and always comes to fight. Could you please guide us how to procced with these issues. This is a big mental torture's, as every time i need go and fight.

kindly advise, how to procced with these issues. Already we had fight recently, but the lady is always talking about us with bad words inside the house, i could hear as I'm sitting at the first floor.

Because of this issue, i could not able to work and mental tourture for me.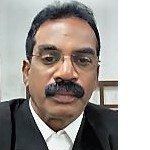 T. Kalaiselvan, Advocate
(Expert) 19 November 2023

If the neighbor lady is abusing in bad words and constantly picks up quarrel then instead of quarreling with her, you may lodge a criminal complaint against her.
However the reasons what you have stated is not maintainable legally.
if they are washing their cloths within their house compound wall, then you cannot complaint against it neither you can ask them to cut the mango tree which in no way is disturbing you now.
You can raise your compound wall a little more higher in order to solve the persisting proble,m, they cannot object you from raising the height of your compound wall.
---