need 340 crpc reg...........

harish
(Querist) 21 May 2011 This query is : Resolved

Dear sir,
My wife has filed maintenance under sec-125 crpc for minor child and her.During Pw-1 and DW-1 she has given false evidences and FIR copy(498,523,3/4,506,)has submited as evidence.
During 125 crpc Pw-1 she has given statements that i had come to my sasural along with my brother on motorcycle( which i have chargseeted on this sentence but i got proceedind and arest stay in High court lko).Which is totly contradictory PW-1 in 125 crpc mentinence.Apart this contradictory PW-1 evidences, I also collected many documents through RTI regarding medical report and doctors's statements etc.
My query is that

1).I have filed 340 as counter case but after admitted and argument magistrate has dismissed or Kharij the case,without any given the opertunity in order sheet, due to absence by me with continouse two peshi.He is biased person.
pl. advise me
1. what shuld i do..
2.Is there any remedy to file fresh as second 340 application in same court
3. can i file 341 and where it will file...
Pl.suggest me. thanking u for valuable suggestions.....

Devajyoti Barman
(Expert) 22 May 2011

How could you do address the judge to be a biased person?
Only because he has rejected your petition. If you can not show respect to the judiciary then do not post your query.

Now the reply.-
The court has passed the right order. When the complainant has remained absent on the two dates continuously and may not be adequately represented by his counsel then the court very much reject the complaint.
1. You can challenge the order of dismissal either before the sessions court or the hight court in Revision.
2.No
3. No, Revision is the only option.

harish
(Querist) 22 May 2011

Dear sir,
I have so many evidences but magistrate is not ready to take cognizances against her. As sir u also know how the 498a is misusing. as i m the victim of that so i can understand better.
As per crpc Revision of 340 is not in provision.
thank u sir for advice.......

Advocate. Arunagiri
(Expert) 22 May 2011

If you fail in 340 cr.p.c., you can go for an appeal u/s 341 cr.p.c.

Mohd Musabbir Ansari
(Expert) 22 May 2011

Mr. Harish

Court is right in dismissing your application for non appearence. However as mentioned that Court omitted to give reason for dismissal on ordersheet, you may prefer an appeal u/s 341 Cr.P.C..But remember if your appeal is premature, baseless, Court may impose heavy cost under section 342 Cr.P.C.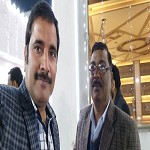 Sarvesh Kumar Sharma Advocate
(Expert) 22 May 2011

agree with divya jyoti 's view!

harish
(Querist) 23 May 2011

But sir it the dismissed case.
Many lawyers suggested me that u can file only in the case of rejected 340 application not in dismissed case.In case of rejection u can file u/s 341 crpc not dismal case.
My council told u have to file fresh as subject under"second 340 application" in same court is it rule or comes under law?
opposition counsil file objection on my recall 340 application saying that there is no provision for revision of 340 and magistrate is agreed. Pl. advice what is the remeady.....thanking u




Advocate. Arunagiri
(Expert) 23 May 2011

In case of rejection or delay in disposal of the petition filed u/s 340 (1) cr.p.c. you can go to the appellate forum us/s 340(2) cr.p.c. Not appeal, not revision.

The appellate forum will step into the shoes of the trial court and will hear the entire case.

In case of dismissal you can go to the same appellate forum u/s 341 cr.p.c (appeal)

Guest (Expert) 23 May 2011

Dear Harish,
A judge cannot be expected to wait indefinitely if any party does not care to attend hearings. He can also not be considered as biased for the fault of the party to the case. Don't you think your absence was a fault of the judge and not of yours?

Non-appearance on hearing dates, itself, denotes that you did not want to contest the case. Then why to blame the judge

Now the only remedy to your problem is to adhere to the advice of the experts and act accordingly. Any theoretical approach may not help you.

harish
(Querist) 23 May 2011

Dear sir
Thanku for your valuable sugetions.
As per law u all the expert are saying right that it is my fault.

Guest (Expert) 23 May 2011

Nice, now you may better take some remedial action through some learned and punctual advocate.

Advocate. Arunagiri
(Expert) 23 May 2011

Mr.Harish,

You have the choice of choosing the advise of the experts. Please dont pass comments on the experts.
---
You need to be the querist or approved LAWyersclub expert to take part in this query .