Mobile subscriber is consumer??

Querist : Anonymous (Querist) 12 November 2009 This query is : Resolved

I have a bsnl (prepaid) connection.Iin Dec.08 it had tariff voucher and while making calls, i was overcharged. I filed a complaint in this regard. Dept. didnt take any action. I filed an RTI application for the action taken report on my complaint. In reply was provided with call details and was proved that i was over charged (as per tariff). Waited for another three months but position on ground remained the same. No action.

I filed a case in consumer forum. Now the lawyer (bsnl) has supplied a copy of decision : Lawyersclubindia Civil Law News : NO TELCOM DISPUTES IN CONSUMER COURT Lawyersclubindia - Interactive Platform for Lawyers & Indian Public, Legal Help, Legal Experts, Judiciary, Judgments, Judgements, Social Network for Lawyers, Legal Community, Law and General Manager, Telecom vs M. Krishnan &Amp; Anr on 1 September, 2009 and requested to Hon. forum to dismiss the case on these grounds as i have violated agreement between BSNL and consumer (me)

Point no. 9 on the second page (http://bsnl.co.in/forms/CAF_3G_PRE_PAID.pdf)

What can be done??

regards

R.R. KRISHNAA
(Expert) 12 November 2009

Recently district consumer forum of Ferozpur has passed a order in a case ( C.C. No. 180 of 2009 ) that mobile subscriber is a consumer with a very good reasoning. You can refer the same in the posting made by one of the member (satnam singh). Make use of the judgment and win your case. Best of luck.

Raj Kumar Makkad
(Expert) 12 November 2009

it is true that all matters of BSNL have been brought out of preview of Consumer fora and a departmental arbitrator has been appointed at all level and all cases even pending have been transferred to it and all future cases are coming to it for its decision.

Querist : Anonymous (Querist) 12 November 2009

Dear Krishna ji

Can u provide the link of decision or copy of the decision.

regards

Dear Raj Kumar ji

It means they (bsnl) are free to waste lakhs (any amount) of rs, in order to supress the reasonable demand of the consumer/s.

regards

R.R. KRISHNAA
(Expert) 12 November 2009

www.lawyersclubindia.com/articles/article_list_detail.asp?article_id=1697



Querist : Anonymous (Querist) 12 November 2009

Dear Krishna ji

Thanks a ton.
regards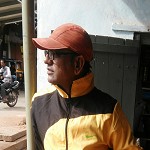 adv. rajeev ( rajoo )
(Expert) 13 November 2009

For your information subscriber to the mobile network is a consumer. Complaint maintains in thse consumer forums.
For your information I had files the cases aainst the BSNL,SPICE,AIRTEL( regarding unfair practice) I got success.

Querist : Anonymous (Querist) 13 November 2009

Dear Rajeev ji

Would u like to share the background of case.

regards

Sachin Bhatia
(Expert) 13 November 2009

Even i have filed a consumer complaint against vodafone and i got decision in my favour.

Querist : Anonymous (Querist) 14 November 2009

Dear Sachin ji

In my case deficiency in service can be proved easily as i have the evidence certified by bsnl (itself/obtained under RTI).

Please share the case details.

regards

V.T.Venkataram
(Expert) 18 January 2010

The Judgement Of The Hon'ble Apex court in Civil Appeal NO. 7687/04 relating to the General Manager Telecom Vs V.M.Krishnan and another states that when there is a special remedy provided in 7-B of the Telegraph Act , the Remedy under the Consumer Protection Act is barred and states that the Special law Viz Telegraph Act overides Consumer Protection Act .
The judgement was given by a Two-Judge Bench.
Now , important questions are as follows :-
1.The present order goes against the precedents set by the Supreme Court in Skypak Couriers vs Tata Chemicals (2000), it asserted that even if there existed arbitration clause in a contract, a complaint can be made before the consumer forum if there was deficiency in service.
The three-judge bench stated that this was because the consumer law was an additional remedy open to the aggrieved person.
The question whether a two-judge bench can upset the law laid down a larger bench in this case, is open to debate.

2. The Consumer Protection Act, 1986 is a Special Law. Indian Telegraph Act also is a Special Law. So, a special law cannot override another special law.

Querist : Anonymous (Querist) 18 January 2010

Dear Mr.V.T.Venkataram

Next hearing is scheduled on 28 Jan. hope will get some positive outcome.
regards
---
You need to be the querist or approved LAWyersclub expert to take part in this query .