Gift a property

satya
(Querist) 29 December 2009 This query is : Resolved

If I gift my property to my brother, what are the tax implications? Are there any other things that I need t okeep in mind?

Adv Mathew
(Expert) 29 December 2009

Hello Satya,

In your case you can transfer your property by making gift deed.The gift deed has to be registered in registrar office and stamp duty has to be paid on the value. The stamp duty on gift deed will be very less. It may be around 1% if the gift is given to family members.

A V Vishal
(Expert) 29 December 2009

You can receive any gift from your relatives without paying any income tax. There are certain provisions and important points which we need to know in order to qualify. Gift received by the following ways from Relatives i.e.a Relative means:

Spouse
Brother or sister
Brother or sister of the spouse
Brother or sister of either of the parents of the individual
Any lineal ascendant or descendent(A lineal descendant is a person who is in direct line to an ancestor, such as child, grandchild, great-grandchild and on. Similarly, a lineal ascendant is parent, grandparent, great-grandparent and so on.)
Any lineal ascendant or descendent of the spouse
Spouse of the person referred to in (2) to (6)

Thus, a gift received by an individual from his spouse, or from his brother or sister, or from the spouse's brother or sister, parents, or from any lineal ascendant or descendant of oneself or one's spouse would normally be fully tax-exempt. Similarly, any gifts of any amount whatsoever received from the spouses of any of these persons would also be completely exempt from income tax.

For example, if Mr. X receives a gift of Rs. 3,00,000 in kind from his brother, it would be exempt since the brother or sister comes within clause (2) of the aforesaid explanation.

Hence, whenever you receive any gifts from relatives you must carefully apply the test to ascertain whether the person concerned falls within one of the seven categories as above referred.



kanhaiyalal ojha
(Expert) 29 December 2009

I agree with A V Vishal. -K L Ojha, advocate,
Jharkhand High Court, Ranchi, Chamber at : Opposite Reliance mart, Kanke Road, Ranchi-8,Jharkhand. M- 094319020920.

Raj Kumar Makkad
(Expert) 29 December 2009

I also agree fully with Vishal.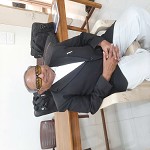 Adinath@Avinash Patil
(Expert) 29 December 2009

I AGREE WITH VISHAL

Davinder Khurana Ferozpur(Punj
(Expert) 30 December 2009

i agree with A V Vishal. He has given very cleae and easy to understand answer.

---
You need to be the querist or approved LAWyersclub expert to take part in this query .