Stamp duty on share transfer to spous

Mahesh Kapasi
(Querist) 19 November 2008 This query is : Resolved



MAHESH KAPASI & CO E-Mail: maheshkapasi49@gmail.com
Chartered Accountants Phone: 2686 8147
B-49, Gulmohar Park,
MAHESH KAPASI New Delhi-110 049
M. Com., LL.B., FCA, FICWA, FCS
Ex –Member: AMIMA, AMIBM, ACEA (London), MIIA (U.S.A.)
Website: www.caclubindia.com/homepage/maheshkapasi

(Record Holder for "Most letters published in a month"
And "Most letters to editor" (Second Place)
in LIMCA BOOK OF RECORDS 2008)


Reference No: Dated: November 19,2008


Lawyersclub.com
Sir,

Re: Stamp duty on shares holding in joint name transfer to spouse

I have been informed by a company that stamp duty I chargeable for share transfer of spouse already shares are in joint name. Is it so? Since Deemat account of single person does not allow joint shareholdings it is necessary to make it single for joint holding by spouse in the single name. But it is not sale or transfer in literary sense than why stamp duty on market rates of shares is Levi able? Even if it is so it should be for 50% (half the value) of total market value as spouse is having 50% share in it. Will the authorities or a competent person clarify it? In my view there should not be any stamp duty on such transfers'. And if it is not the law such an amendment is a must in public interest.
In fact, in all family settlements under all tax laws there is no stamp duty, as no transfer of property actually takes place.
Further I suggest that all family (blood relations) transaction of transfers/settlement / and even sales if any including shares should be exempt from the provisions of Stamp Duty Act.


(Mahesh Kapasi)




Manish Singh
(Expert) 19 November 2008

Sir, I think the question which arises for consideartion hereby is that when shares jointly held by the spouse is transeferred to anoone of the spouse, what shall be the stamp duty liabiliiy in the said case? is it so?

Manish Singh
(Expert) 19 November 2008

....

PALNITKAR V.V.
(Expert) 17 March 2009

No clarification yet.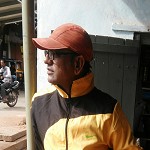 adv. rajeev ( rajoo )
(Expert) 28 March 2009

There is percentage to transfer the shares to one of the joint holders, u better contact a share broker regarding percentage of stamp duty. It is normally on the number of shares.
---
You need to be the querist or approved LAWyersclub expert to take part in this query .