road accident

sumit bajpai
(Querist) 18 July 2008 This query is : Resolved

My relative has met an road accident, relative was driving Car on highway, wherein on both the sides trucks were standing, suddenly a truck driver started crossing the road from between the two trucks and was hit and got injured seriously, on that day it was drizzling also and hence the road was also wet. the FIR was lodged under 279/337/338 and bail was granted to relative but the person later died and police imposed section 304A. I wanted to ask whether, we have to take bail again firstly and secondly wht would be future course of action and how long it would take to finish off the case?? Also can the case be settled outside the court?
Pls reply. Thanks

mahavir singh
(Expert) 18 July 2008

Sumit, your relative was booked under section 279/337/338 & subsequently 304A.if u have taken bail from police station you have to take bail from court too after the investigation officer files charge sheet in the concerned court.you cannot settel the case outside the court as section 304-A is non-compoundable,as far as finishing of case it depends on the concerned courts you have not mentioned jurisdiction.is it delhi or haryana or uttar pradesh how can i say how long will this trial last for.

Srinivas.B.S.S.T
(Expert) 19 July 2008

As my friend said offence under section 304-A is non-compoundable but if your vehicle has insurance you can offer some amount at later stage to the aggrieved party and make them hostile. The agrrieved party can file a MVOP petition and can get compensation for the death of the person from the insurance company. It is hard to belive but most of the accident cases settle in that way.

KamalNayanSaxena
(Expert) 19 July 2008

Dear Sumeet,
As far as your first question is concerned you are not required to furnish another bail bond before the police station, however as contended by Mr. Mahavir you will have to furnish the same before cort on the submission of charge sheet.

Secondly, what I observe in the matter that your relative is not negligent. He must file a representation before the SP of the concerned area narrating facts regarding his innocence.

Your relative can also lodge a FIR against the offending truck driver.

This exercise would help him in trial.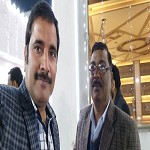 Sarvesh Kumar Sharma Advocate
(Expert) 19 July 2008

sumit/road side accident is a bailable crime,so bail is the right of accused.but it is a non compoundable case so u can not sattle this case out of the court sattlement .after all court procidings case wiil be decided.it wiil depend on evidance and circunstan to decided the case. whether a valid driving licence,insurance,and the site plan made by the investigation officer,with eye witness and the best defence wiil the main part of this case.althoug aggrived side can also file a claim case upon you and over ur insurance company(if any)

Srinivas.B.S.S.T
(Expert) 21 July 2008

Come on Sarvesh we all know that once the out of court settlement is arrived in 304A cases we can make the witness hostile and win the case.

K.C.Suresh
(Expert) 21 July 2008

I think that treand has been changed. Even there is an out of court settlement between the 9injured/eyewitness and the accused the court in some cases are releuctant finish the issue as the number of cases are high now adays. Further in your case section is alteratered still 304A is a bailable one. Punishment is Imp. for 2 yrs, or fine or both. So sn accused on bail for 279/337 need not take bail evenif the section is altered to 304A. Further you will be heard aboout the bail if the court wants to interfere. Police cannot take any action against you as you are already on bail.

kumar sachin
(Expert) 26 July 2008

as far as bail matter is concerned Mr. mahabir is right and the advise given by Mr. sriniwas is very correct and is practically being used these days.
---
You need to be the querist or approved LAWyersclub expert to take part in this query .