MENATAL HARRASSMENT

LEGALHELPREQUIRED
(Querist) 03 August 2008 This query is : Resolved

I sense a foul play of Divorce trials by my husband and inlaws.

I dont want divorce as I have a son.

I am married since Mar 07, but have been facing mental harrassment since just two months after engagement in August06, to the extent that they wanted to cancel the marriage.

My husband appears to be meek, but he is cool headed and does anything pre-planned.

I am straight forward and speak my heart openly.

He is not interested to stay with me, because he did not like my appearance due to my short hair or glasses(Everything was clear at the time of seeing me for alliance), he did not like my being good at my Academics, good English and earning better than him.

Now oflate, the issues have grown big and I started finding the faults that their family members have done by insulting me at various instances.

For this they say, that I am not obedient as a daughter in law, and that I am mental and hence shout at elders etc.

They did not care about me during my pregnancy, and did not care about the child after his birth, except that they came once and saw us in hospital.

In the 3rd month when my mother asked when they would take me and my son, they said they were going to Kasi, so would see in 5th month. In the mean time I was pleading my husband to come and see us atleast now after the child is born. He denies everytime saying that he would not come if I wanted to see him, but would come only if he wanted to see the child.

For doing annaprasana, they even made me write on a Bond paper that I have insulted my inlaws and husband and hence, I was staying seperately from husband(due to some arguments previously) and that
I am willing to bring my child up at Vijayawada since I am working in Hyderabad. (One of the conditions of my husband that I have to keep the child at Vja), and that they have not taken any amount for any expenses for marriage.
Also that I am writing this with my own interest without any force from anyone.

After that they gave the plea that since I delayed in signing the bond, they cannot take me and child back in 6th month, so we have to wait till 9th month. But they conducted annaprasana on 6th Month 6th day, asking us not to stay in Vja that day, as my son cannot do an overnight stay in 6th month.

Again I started asking my husband to come sometime to see the child as he is already 6months old.
This time he talked rudely, and I said if you not very interested then why did u people make me sign the bond, Pls take life seriously, if you dont want me then you could have gone for a divorce instead of these cheap tricks.

This irritated my husband and he said that he will file for divorce.... and that I have to sign... (Till date they did not send any papers).

In the mean time the arguments with my husband irritated me to the extent that I started talking harshly and he started complaining to his father, and he wrote a letter that I am mad and should be put in mental hospital....

I fear that he is building all these proofs to go against me... Pls help

I dont want divorce... I want my husband and a happy relationship with all the family members.

I only seek the cooperation from the family and request them not to insult me for my appearance. (I am fair, sharp featured etc... to the contrast of my MIL and SIL).

Am I wrong... In expressing my anger at my inlaws for having brought up their son who doesnt show any responsibility towards his wife and son. He did not come to see me even once when I was pregnant (With diabetes). He has never been happy in front of me. He acts silence and non happiness only towards me. Where as when his relatives or friends come, he is a different person.

Even my inlaws have a very good reputation in their family and friends and in the neighbourhood. But no one can believe that they do all sorts of things to prove their son right.

They are creating proofs that I am not good by nature and I dont respect elders...

How do I defend

KamalNayanSaxena
(Expert) 04 August 2008

Your problem is not really so tough as you have made it.

From your verdict I arrived on conclusion that you do not want any legal remedy.

what you have to do, is to explore yourself. There is nothing else than clashing of ego of members of joint orthodox(you can say) family.

Counseling is preferred in your case.

anantha krishna n.v. Advocate
(Expert) 04 August 2008

propose a family counselling session by experienced family counsellor. It appears to me that you both are at fault in shouting at each other. Family is a matter of trust. minor adjustments are essential in life. a strong stance on either side create pressures and disturbances. So propose an amicable settlement. Probably if you can improve your communication skills to put your point clear yet politely or in a fashion acceptable to others, hopefully you might not have been where you are now.

seriously think of a family counselling. If you believe you went wrong somewhere, do not hesitate to apologise. If you feel your husband went wrong, express your forgiving clearly and propose reunion IN THE INTEREST OF THE CHILD.
Let not your emotional upset make the child heading towards single parenting.

anantha krishna n.v.( Advocate, AP High Court, 9246531895)



puneet
(Expert) 04 August 2008

i think both my learned friends are right you both can sit together with your families and your well wishers and a counselling will help u for this

Srinivas.B.S.S.T
(Expert) 04 August 2008

First send a letter to your husband by RPAD expressing your willingness to join him. Mention clearly that the bond paper was taken by force and against your will. If famiy councelling proved furtil then its ok. But in case the mediation filed you have to file a case for restitution of conjugal rights. My sincere advice is that think twice before initiation of any legal proceedings as the same will widen the gap for sure. All the best to you.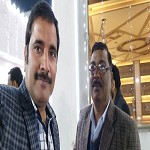 Sarvesh Kumar Sharma Advocate
(Expert) 05 August 2008

what u wnt 2 say r u wnt to defend ur self?or want 2 get bake with ur hsbnd?in ur problem proud ,compromise,condition,are d main factor so my sugestion 4 u is dis dt both of u can only solve d problem .meet him with some compromise.at last in family that is ur way in court that is highway.

KANDE VENKATESH GUPTA
(Expert) 05 August 2008

Time will help you. Be patient. Don't initiate any legal proceedings from your side. Because initiation of legal proceedings, particularly criminal proceedings further worsen the situation. Even if you sign any bond paper by admitting any of your ommissions and commisions, the same will not be useful for your in-laws in any legal proceedings against you. On the other hand, in any legal proceedings, if any, initiated by your in-laws, you can ask the court to raise presumption in your favour, by establishing the conduct of your in-laws insisting you sign on the bond paper. Don't loose your self control.
---
You need to be the querist or approved LAWyersclub expert to take part in this query .