Judge is favouring the plaintiff

Rashesh
(Querist) 28 October 2019 This query is : Resolved

An illegal tresspasser filed a civil case on my father to enjoy our property free of charge long time. The civil judge has favoured him by giving temporary injunction order in Plaintiff's favour. I do not want to appeal but if I want to change my court, is that possible?

It became a complex case when since past 2.5 years , our case is not been progressing because any lawyer we hired, the opponent lawyer make negotiations with them and these lawyers are withdrawing from our case even after giving good fees. My father is 75 year old , living in Mumbai and the property is at Mehsana Jilla so we need to hire local lawyer and its been so difficult since trespasser is a political leader of that taluka.

I am living out of India, hence only can work with lawyers who uses emails or WhatsApp. In the small Taluka, all lawyers knows each other, even Judges were seen playing cricket with lawyers.

In Injunction order, Judge wrote "balance of convenience " and irrepairable loss to PLAINTIFF if the injunction order is not given, where as real truth is PLAINTIFF has kept our property in locked position since past 7 years and we put electric bills also to prove that.

Now situation is all PLAINTIFF are out of picture and the political person's employe is now POA of the case and never come to the court. Once I appeared in the court with my father and ask them to proceed with our presence as "PARTY in PERSON" The judge immediately refused that and asked us to come with lawyer. This is a reason I suspected that Judge , lawyer etc. are influenced by that political person (who has been popular in Taluka for Judge posting and recruitment also). If you need more info I can give , my email is rashesh_shah@hotmail.com

What best can be done?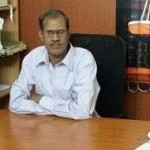 KISHAN DUTT RETD JUDGE
(Expert) 28 October 2019

Dear Sir,
If you don't want to go in appeal against orders of Trial Court in respect of interim temporary injunction order then you can file transfer petition under Section 24 of CPC citing some examples and demonstrate before the High Court has to how the Trial Court biased against you and get transfer of your case to some other Court.
=======================================================================================
Under section 24 of the Code of Civil Procedure the High Court may, on the application of any of the parties or of its own motion, not only transfer a suit for trial from one court to another court subordinate to it, but may also withdraw any suit pending in any court subordinate to it and try or dispose of the same.

Guest (Expert) 28 October 2019

Interim stay would be normally issued

Guest (Expert) 28 October 2019

You should not blame any one for this reason

Guest (Expert) 28 October 2019

Interim Stay will not be the permanent remedy to any one. Let yourself and your Advocate concentrate on the Main Case and Contest well and the stay would be vacated automatically

Guest (Expert) 28 October 2019

Querist --- Better change the Title-- It is Not Acceptable

Dr J C Vashista

(Expert) 29 October 2019

What is the opinion and advise of your lawyer, who is well aware about the facts and circumstances of the case an able, competent and intelligent to satisfy your queries??
However, if you want second opinion do not rely upon obligation of experts on this platform as their opinion is based on limited facts posted by you. It is advisable to show the case file to a local prudent lawyer and change your lawyer, if you feel so.
The judge has to deliver the judgment on the basis of pleadings, evidences and document placed on record, which is bound to favour one of the two litigating party. Blaming a judge is very easy but unethical, arbitrary and illegal, which is to be depriciated and condemned.

P. Venu
(Expert) 29 October 2019

Admittedly, the plaintiff has been possession for a longtime. There is no bias if interim injunction is granted in such a case.

Rashesh
(Querist) 29 October 2019

Dear expert sirs, I have provided little background so that my query can be understood in positive sense

Guest (Expert) 31 October 2019

No Judge shall be liable for any thing which is done while acting Judicially in the exercise of any Powers given by Law

Guest (Expert) 31 October 2019

Social Media Users should Prevent and Avoid committing Contempt of Court while commenting on Honorable Judges and Cases

Guest (Expert) 31 October 2019

Refer Judicial Officers Protection Act 1850

Guest (Expert) 31 October 2019

Commenter Could land up in Jail if proper complaint is made by any one.

krishna mohan
(Expert) 04 November 2019

Your lawyer need to have protected your interest. If you are not convinced, you can consult another able lawyer with all title deeds you are relying on for right advise.
---
You need to be the querist or approved LAWyersclub expert to take part in this query .