Imp: Please Help

rashmi singh
(Querist) 24 December 2009 This query is : Resolved

We are a private limited company and our activities are marketing medicines in our own brand names and our firm has been in operation for around six months now.
Before incorporating our company we did a tradesearch for our name and it had come out clear and so we went ahead with this name and also applied for trademarking.
Now after six months of doing business in this name we have found tthat another big pharmaceutical company has a DIVISION with the same name as ours (in operation before us)and they are also marketing some of their products uunder this name..the only exception is that the brand name of their products and our products is entirely different(Brand names are more imp in the pharma ind as medicines are known more by their brand name than the company marketing them)
Now my question is can the other pharma company sue us for marketing medecines under a similiar name as one of their divisions? We had chosen our name in good faih and was not aware that this division existed and while the parent name of this pharma giant is well know, this particular division is not very well known and was not even listed on their website.
Please let me know if the pharma company has any grounds for suing us and asking for compensation in this regard??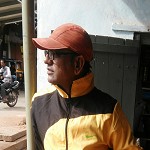 adv. rajeev ( rajoo )
(Expert) 24 December 2009

From your querry it seems that you have got genuine reason to use the trade name. If the company sued you, you will have defend the case by taking all the defenses that you are bonafide user and you will have to produce the copy of the application filed for registration.

Guest (Expert) 25 December 2009

NANDKUMAR B.SAWANT.M.COM.LL.B.(MUMBAI),ADVOCATE
MOBILE 09325226691, 09271971251

e.mail.adv.nbsawant@yahoo.co.in
e.mail.nandkumarbs@sify.com

REGARDING THE REGISTRATION KINDLY NOTE THAT

1.YOUR REGISTRATION IS PENDING .
2.YOU MAY FOLLOW UP THE MATTER FOR REGISTRATION .AS PER PROCEDURE THE REGISTRATION WILL BE GIVEN AND IN CASE ANY ONE IS HAVING ANY OBJECTION THEN YOU WILL COME TO KNOW ABOUT IT.
3.YOU MAY DEFEND YOUR SIDE IN CASE OF ANY LEGAL NOTICE IS SENT TO YOU.
KINDLY SEND DETAILS IN CASE ANY FURTHER HELP IS REQUIRED.
WITH BEST REGARDS TO YOU YOUR FAMILY AND FRIENDS.
THANKING YOU
YOURS SINCERELY
NANDKUMAR B.SAWANT.M.COM.LL.B.(MUMBAI),ADVOCATE

rashmi singh
(Querist) 25 December 2009

Thank you Mr Rajeev And Mr Nandkumar for your prompt replies.
From your replies I gather that while the other company can sue me, I also have adequate grounds to defend myself.
Hope That is right?


Adv Mathew
(Expert) 29 December 2009

The two main requirements of a trademark are that it must be distinctive (adapted to distinguish the goods/services of the applicant from that of others) and not deceptive. Therefore while selecting a trademark, words that are directly descriptive of the goods, common surnames or geographical names should be avoided as these confer weaker protection to the proprietor even if registered.

In your case acting in good faith can be a plea,but as this falls under the same category of goods and service you also have a weak point.I would advise you to do a trademark search on the infringing name and find when it as in when it was registered as well when it will expired.
---
You need to be the querist or approved LAWyersclub expert to take part in this query .