section 498A

attenuator
(Querist) 28 September 2009 This query is : Resolved

Dear members,
I shall be greatly obliged for your kind suggestions concerning the following matter:
I have been married for exactly 13 months now but have lived together for only 5 months (from april-aug 2009.)Now for the past one month, my wife has been living with her parents after imposing all nonsense and false allegations on me. I do not know anything about their intentions but apprehend that they may file a false case if the results are not to their satisfaction. In this regard, I have a few queries:
1. Since, there has been a rising misuse of section 498A by urban indian women, is there any remedy which poor innocent husbands can take as a precautionary measure in order to avoid such harrassment by women ? I ask this as I fear that my wife might file a wrong case against me ?

2. While browsing, I found that issuing a court notice under 'restitution of conjugal rights' is one such remedy. How far is it beneficial for a husband in either reconciliation or in convincing the other party for a divorce by mutual consent? I ask this as she might harrass me and try to extract money to agree for divorce.

3. Even if such court notice is issued, I fear that my wife can still file a case under 498A as retaliation. I would like to ask the members if issuing a court notice under 'restitution of conjugal rights' by a husband dilutes and weakens wife's idea in indulging in such cheap acts and what would be its other consequences ?

My stand here is that if my wife is willing for a divorce by mutual consent, I would immediately agree to it but I doubt that and hence shall be extremely thankful if you all could help me out from this extremely undesirable situation!

Thanks

Raj Kumar Makkad
(Expert) 28 September 2009

The only way to weaken the future step of your wife is to file a petition seeking restitution of conjugal rights, however, it can neither prevent her to initiate any case, what so ever she wants to file against you or your family. It is just a step which shows your good intention but not a full proof measure to tackle the otherwise adamant lady/wife to drag you in the criminal as well as in civil litigation. Try to solve the problem through social intervention otherwise law is in favour of wife, whether she is right or wrong. Try to make compromise to save yourself and your whole family from long harassment, loss of money and reputation.

KUNDAN LAL ADLAKHA
(Expert) 28 September 2009

NO DOUBT A PETITION BY YOU U/S 9 OF H.M. ACT BEFORE SHE FILES AN FIR AGAINST YOU U/S 498A IPC WOULD DILUTE AND WEAKEN HER CASE BUT SHE HAS LIBERTY TO DRAG YOU TO THE COURT. IN THE COURT AT THE TIME OF SEEKING BAIL IN CASE U/S 498A YOU CAN ARGUE THAT YOU ARE INTERESTED IN TAKING HER BACK TO YOUR HOUSE INSPITE OF THE FACT SHE LEFT THE HOUSE ON HER OWN. YOU ARGUE THAT YOU NOT DID THROW HER OUT BUT AFTER LEAVING THE HOUSE ON HER OWN SHE IS NOT COMING BACK INSPITE OF YOUR BEST EFFORTS.
IF YOU ARE REALLY INTERESTED IN BRINGING BACK YOUR WIFE, ARRANGE A MEETING BETWEEN THE ELDERS OF BOTH FAMILIES AND OTHER RELATIVES, AND SORT OUT THE PROBLEM TO SAVE YOU AND MEMBERS OF YOUR FAMILY FROM UNDUE HARRASSMENT AND MENTAL TORTURE.
IF YOUR WIFE IS INTERESTED IN DIVORCE BY MUTUAL CONSENT, ENGAGE A LAWYER AND FILE A PETITION U/S 13-B OF H.M.ACT IN THE FAMILY COURT OR IN THE COURT WITH APPROPRAIATE JURISDICTION. AFTER FILING THE PETITION IT WOULD BE TAKEN UP AFTER SIX MONTHS AND IF SHE TURNS UP AND CONFIRMS WHAT SHE STATED IN THE PETITION,THE COURT WOULD BE OBLIGED TO DISSOLVE YOUR MARRIAGE U/S13-B.





Sachin Bhatia
(Expert) 28 September 2009

File a petition u/s Sec 9 restitution of conjugal rights, it may be helpful in getting bail if your wife file a complaint u/s 498A. It is better to solve the problem with the help of some common peoples between both of you. Try to prevent youself and your family from long harassing litigations.

joyce
(Expert) 28 September 2009

If at all you want to know the result of ur wife's reaction before filing a case of restitution of conjugal right under sec 9 of H M Act, issue her a simple notice; not legal notice, asking her to join u to bind with wedlock, she issues the reply, latter try legally,notice thru advocate also simultenously try to settle the matters through elders of the community n family. Collect the proofs so as to guard urself with the defenses that ur tried ur efforts in convencing her n efforts in retaining ur marriage. Go thru D.V.Act just for ur knowledge sake.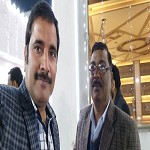 Sarvesh Kumar Sharma Advocate
(Expert) 02 October 2009

agree with joyce.
---
You need to be the querist or approved LAWyersclub expert to take part in this query .