Forcible enchroachment of land

Querist : Anonymous (Querist) 05 November 2022 This query is : Resolved

Respected Experts

One Smt. Sanjana has purchased landed property in 2013 and 2021. Her husband died during covid pandamic. On west side of said one medical practitioner Mr. Krshna, is having his hospital. In the last month said Mr. Krishna has occupied a part of land owned by Smt. Sanjana and started constructing foundations with a measurement of 20x50feet without having any right or consulatation.
Immediately on knowing the same Smt. Sanjana sought the help of village elders, asked said Mr. Krishna not to do any further construction. Then he admitted his occupation and demanded to sell said land to him, Smt. Sanjana rejected said forcible proposal. After few days again he started constructing. Now he raised foundations upto 5 feet hight.

In this situation how Smt. Sanjana can get help through court, by what provisions

Shall she ask court to demolish the foundations ? If so under what provision

Please guide in this aspect

Querist : Anonymous (Querist) 08 November 2022

waiting for experts replies

SUBRAMANIAN C R
(Expert) 30 August 2023

Suit for Recovery of Possession of the section encroached upon, on the strength of title and mandatory injunction to remove/demolish the structure
Should show the whole of title property as A schedule and the encroached portion as B schedule.

1. Interim injunction not to make further construction in B schedule and interim injunction restraining entry into the whole of A schedule.
2. Interim injunction to demolish the structure already made.
3. Should take out a commission on the date of suit to prove the status quo on date of suit.
4. In the suit take out a commission to identify the property with reference to title deeds to show title.

Consult a good civil lawyer of the local Court and proceed as per his instructions.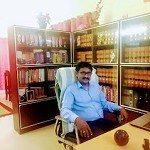 S.JEEVAGAN, Madurai.
(Expert) 21 November 2023

You can file a suit for declaration of title and and recovery of possession with consequential injunction.

The relevant provision of law which the Querist asked for is as under:

Limitation Act (1963) Schedule I, Article 65 which provides with 12 years as the period of limitation within which you can file a suit for recovery of possession. However, since the other party is in possession of your property and if he disputes your title over the said property, then you should file a suit for declaration within a period of 3 years from the date when right to sue accrues under Article 58 of the Limitation Act. Otherwise, the suit will be barred by the law of limitation.

It is for you, the plaintiff to prove your title and satisfy the court that you are entitled to dispossess the defendant from the possession over the suit property.

You can also file interlocutory Applications under Order 39, Rules 1 & 2 of the Code of Civil Procedure ( 1908) for the relief of injunction for demolishing the permanent structure that the opposite party has raised in your property without your consent, etc.
---