Hit a Car

Querist : Anonymous (Querist) 24 May 2011 This query is : Resolved

Dear Experts,
while driving my car on sunday afternoon i hit another car on driver's gate which was trying to cross the road.
there is a little dent on driver gate for which i was ready to get it repaired but lady was insisting for cash on spot which was 10 times higher thn the damage.
when i refused she went to police and now police is harrasing me for court case , what should i do now ?

yogesh
(Expert) 24 May 2011

Remain cool as in small accidents there may be the possibility of contributory negligence. Don't pay anything if you are right or some one is taking advantage over the situation.If one files the civil case it better to engage the lawyer/or in person and received the notice and file the reply.Justice will be given to you

Querist : Anonymous (Querist) 24 May 2011

Dear Mr Yogesh,
Thanks for your advise which most of my friends are also suggesting the same.
however i want to know what wud be the next process . i have been told by police that the lady has already filed case against you . i do not really know how far he is truthful?

he says i have to appear in court n from there the bail will be given ...
can they arrest me in odd hours from my house ?
i am afraid in my absence they may misbehave wd my family members too..
please advise me in detail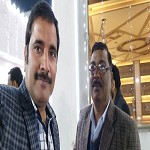 Sarvesh Kumar Sharma Advocate
(Expert) 24 May 2011

279/427 i.p.c.case,
bailable offence bail is your right,
less then 1000/-one thousand rupee can only the fine.
don't fear just fight the case if ragisterd i am with you!


M/s. Y-not legal services
(Expert) 27 May 2011

Dear author. Just follow the experts words. Both they are advised you correctly.. Your case is bailable sections only. Even you can file a counter case against her. But you made delay.

Querist : Anonymous (Querist) 28 May 2011

Dear Mr Yogesh / Mr Sarvetsh / Mr Tom,
Sincerely thankful for your advise and i am following the same . meanwhile following are the development.
1. One of the constable keep calling me politely and advising me not to pay anything to the lady but to take care of him. since i am out of town till 2nd June , i have asked him to wait till that time which he agreed.
2. He says the call from DIG police is there as the lady is known to him so we will have to register the case and from court you will get bail but do take care of me.
3 Unfortunately i am late by 3 months to get my car insurance renewed and that make me afraid if it goes wrong .

i want to know since the incidence is out of record so far can i just deny involvement of my car and put it as if the same thing happened with a cab in which i was travelling ?

the cab was hired on the way and no whereabout known .

Kindly advise

lingraj maradi
(Expert) 02 June 2011

sir,

in your case their is rash and negligent on tour side then you don't worry.
suggestions.

1. If you have valid insurance and driving license then don't care of that police harassment. because after receiving summons you contact your advocate and make plead guilty and pay fine if you are not liable for accident then you fight your case on merits.

2. this bailable offence so you don't worry about that.

3. if she demand money and you have valid insurance and license then you tell her that go before MACT file damage petition.

4. if you have valid license and insurance policy then your insurance company pay that damage amount.


Querist : Anonymous (Querist) 21 June 2012

Dear Experts,
This has been now one year the case was filed and i was allowed on bail. i was told by advocate that you will be receiving date for next hearing but in last one year there is no news , what should i do , should i remain silent , i am not able to locate the advocate now.
what must be happening to my case ?
---
You need to be the querist or approved LAWyersclub expert to take part in this query .