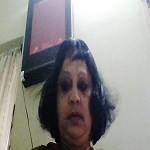 What kinds of questions I can and can't answer?
Ican answer Business, Corporate, Tax and Family Law expert queries. Rest I can't answer.

My area of expertise
Income Tax Law

My experience in the area (years):
Income Tax, Business and Corporate Laws, Family Laws etc.

Organizations I belong to:
Independent Legal Professiona and Legal Expert

Publications or writing which has appeared :
http://www.wizardlegal1.in

Educational credentials:
PG in Business and Corporate Laws from Osmania University. Also hold PG Diploma in Legal Process Outsourcing from Indira Gqandhi National Open University and Secured distinctionin that.

Award & Honors:
Smartwomenindia.com award for my blogs.