Ending child marriage in India
Poverty, gender discrimination and migration have a big impact on child marriage and on the health of girls and young women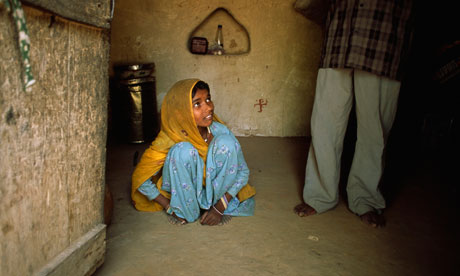 Sugandha is conducting a session on raising awareness about the perils of child marriage among a group of schoolgirls. They listen with rapt attention to the didi (elder sister) they all admire. Sugandha came back to school after being married and then thrown out of her in-laws' home when her first-born died.
"Right now I work as a peer educator for a programme called Youth for Change. We arrange meetings and inform people about the ill effects of early marriages. Moreover, we have been successful in stopping a few child marriages," she says proudly.
Sugandha lives in Uttar Pradesh – one of the largest states in India – where 40% of girls are married before the age of 18, according to the District Level Household and Facility Survey – 3. Uttar Pradesh is among the top five states in India when it comes to rates of child marriage. Development indicators are among the lowest, and poverty, gender discrimination and migration have a big impact on child marriage and on the health of girls and young women.
Many rationalisations are made for marrying girls young, even though the marriage of those under 18 has been illegal since 1929, ie since the era of the British rule in India.
"My father died when I was quite young. Because of this there was pressure from the village, which forced my mother to get me married at a young age. I was very young – I couldn't say anything, I didn't understand," says Sugandha.
Despite new provisions having been made under the Prohibition of Child Marriage Act 2006, under which a child marriage prohibition officer must be in place at the local level, implementation is weak. The officer must ensure no child marriages takes place in their jurisdiction by approaching the courts for an injunction, collecting evidence against people, creating awareness about the negative effects of child marriage, and collecting data concerning child marriages, among other functions.
However, the elected village head in Sugandha's village said: "I have heard that child marriage is an offence but I have not read the law yet. Even now child marriage is taking place, because people say that a girl is someone else's property, therefore she should be married as soon as possible so she goes to her "own" home. I'm faced with a situation where if I take any action against them, the villagers will be up against me. So even if I know, I think it's best that I keep quiet."
Despite an awareness of the law, and of the consequences of child marriage on the s*xual and reproductive health of girls and young women, the gender disparity and a disregard for women in society means there is a lack of political will to see the law to its execution at the grassroots. According to Unicef's State of the World's Children Report 2007: "Premature pregnancy and motherhood are an inevitable consequence of child marriage. Girls under 15 are five times more likely to die during pregnancy and childbirth than women in their 20s."
In another district of Uttar Pradesh, closer to the Indian capital, New Delhi, a group of boys and young men are listening to another peer educator talk about s*xual and reproductive health. One of the young men tentatively raises his hand to ask, "Every time I have s*x with my wife, she falls ill. Why is that?"
Not only is pregnancy a big concern for girls who have been married young, but also the act of s*x has not been demystified and remains an unpleasant act at best, or worse, an act of violence. Girls and young women's s*xuality is denied all their lives and then they are suddenly pushed into a marital relationship where they are expected to satisfy their husbands and prove their fertility.
The law also puts the onus for prevention of child marriage on the person performing the ceremony. However, the priest in Sugandha's village said, "We have not received any guidelines or any rules [on the Child Marriage Act], but I can tell you that marriage should be when the girl is 18 or over, when she is ready to understand and mature enough to shoulder responsibilities. [But] every year we perform five to eight marriages where they are below 15 or 15 to 16 years old. Even now we'll be doing so – the dates are booked."
The International Planned Parenthood Federation considers child marriage to be a human rights violation. Ending child marriage is essential to make progress towards international and national development goals, including the millennium development goals.
Some names in this article have been changed.
Arushi Singh is youth programme officer, International Planned Parenthood Federation, south Asia region
https://www.guardian.co.uk/global-development/poverty-matters/2011/mar/03/ending-child-marriage-india-health