'Ex-terrorist saved my life'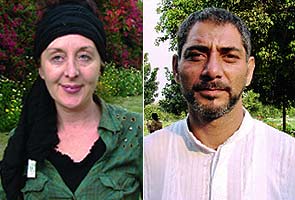 Delhi: Russian hairdresser Elena Narkhova wanted to start her life afresh after getting a divorce. So she decided to leave her country and come to India, which she felt was paradise. In June 2008, she came here with plans to open a hair dressing salon. She even dreamt of marrying an Indian and settle here permanently.

However , fate had other plans for her. During her stay in a hotel in Paharganj, Elena happened to meet and befriend a local, Prabhojot Singh. She told Singh about her plans and sought his help in realising them. Singh told her that opening a salon in India will cost her a lot of money. So she returned to Russia, sold her entire property and came back with money after a month.

Singh received her at Indira Gandhi International airport and took her to a hotel in Paharganj. The couple got married at a local temple and stayed in the hotel. "The next day I found myself alone in the hotel room. Prabhojot had gone and so was my $10,000 cash, gold jewellery and passport. I complained to local police but they didn't help me. I became sad because I was cheated by a person who had married me (sic)," said Elena.

Dejected and heart-broken, Elena then happened to meet Altaf Bhat, a former terrorist. After hearing Elena's plight, Altaf helped her lodge an FIR at the Paharganj police station and even offered her a place to stay. Since then she has been living with Altaf in a hope that one day police will arrest Prabhojot.
"I want to ask Prabhojot why he did this to me," said Elena while alleging that police are in know of his whereabouts but don't want to arrest him.

Despite being cheated and having faced police apathy, Elena is still positive about her Indian dream.

Altaf was arrested by Jammu and Kashmir police for carrying out terrorist activities. He was later convicted and has since served his sentence. He told MiD DAY that now he "does not believe in terror" and his aim was to spread the message of peace. "When I met Elena, she was perturbed, had no money and even police was not listening to her (sic). I felt it was my duty to help her," said Altaf.

https://www.ndtv.com/article/cities/ex-terrorist-saved-my-life-91491