Husband's affairs with bar girls drives Mumbai woman to suicide
Mid-Day.com, Updated: June 29, 2011 12:31 IST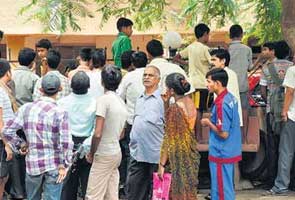 Mumbai:
Mamta Jha (36) was aware of her husband's 'innumerable' extra-marital affairs and his habit of bringing his paramours home after work.
But yesterday morning she woke up to her nightmare she caught her man in a compromising position with another woman at their home.
Unable to cope with her husband's infidelity, Mamta, mother of a 15-year-old boy, jumped off the 19th floor of Crimson Tower in Lokhandwala, Kandivali (east).
According to the Samta Nagar police, Mamta was staying at the flat with her husband, son and in-laws. Mukesh, who works as a crooner at a nightclub, used to come home early in the morning every day and would often tag bar girls along.

On Monday, Mukesh came home with an unknown woman around 5 am. His wife was fast asleep during that time.

When Mamata woke up, she was shocked to see her husband with an unknown woman in a compromising position. In a fit of rage Mamta pounced on the woman and dragged her out of their home. Then she started quarreling with her husband.

Pretending as if nothing had happened Mukesh went to sleep, but an enraged Mamta leapt to her death.

"We received a call that a woman had jumped off a 23-storey building in Lokhandwala. We rushed to the spot around 6.45 am and took her to Bhagwati hospital, where she was declared dead on arrival," said Senior Police Inspector Anant Shankar Kenjale.

The investigating officer of the case, who did not wish to be identified, said, "Mukesh was in relationship with many bar girls. He used to bring them home early in the morning almost every day, when Mamta would be fast asleep. Due to this, Mamta and Mukesh used to fight every day.

Mukesh would often tell her to leave his house and go away from his life but Mamta would suffer silently because of his son, as the split could affect the child's future.

Mamta's parents live in Delhi and the family is not so well to do, which was also one of the reasons that stopped her from severing ties from her unfaithful husband," the officer added.

A suicide note has been found on Mamata in which she has said that she had got fed up with her husband's flings, but she maintained "no one is responsible for my death".

"Since she has not held anyone responsible for her death, we are neither able to register a case of abetment of suicide nor can we arrest anyone at this stage. We are now waiting for Mamta's brother to arrive and if he complains against Mukesh, then we will register a case against him," said Kenjale.
https://www.ndtv.com/article/cities/husbands-affairs-with-bar-girls-drives-mumbai-woman-to-suicide-115559