SOURCE - https://www.ndtv.com/article/bangalore/wedding-stopped-mid-way-after-doctor-demands-dowry-90394?pfrom=home-Cities



Wedding stopped mid-way after doctor demands dowry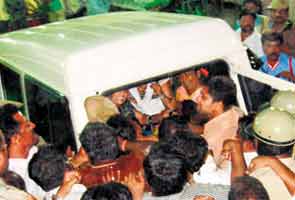 Bangalore: In another case of dowry related issue, a wedding was stopped mid-way as a result of demands being made by the groom and his family, even as relatives and guests waited at the marriage hall.

B P Swetha and Amit V Rolli, both doctors, were scheduled to wed at 6.30 pm on Tuesday. Despite the presence of hundreds of relatives and friends, Amit and his family began arguing with Swetha's family about the marriage hall and other issues even before the marriage could begin.

The marriage was fixed three months ago and the couple was engaged for the past three months. According to Swetha's relatives, immediately after the engagement, demands began to pour in from Amit's family.

Swetha's parents KS and B S Puttachannappa had already agreed to some of the demands and had also spent

Rs.

3.5 lakh on the wedding arrangements so far. "The boy was given

Rs.

5 lakh as dowry along with a 30x40 site.