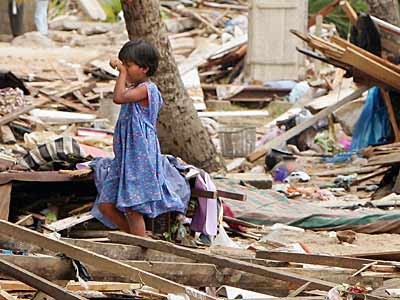 I was living a normal life until hit by a deadly wave called '498A' in April'10.
Every penny of my investment which I was saving to buy a house got consumed in fighting this case.
With Sai Baba's grace, my entire family got anticipatory bail and despite being on the run for about 2 months I didn't loose my job.
Under the cloud of heavy debt I resurrected and picked up where I left off.
Went back to my flat which was locked for two months.
Blew the dust off the main door's handle and noticed some envelopes beneath the door as I pushed it to open.
Carpet of thick dust on the floor welcomed me.
It was dark, didn't even bother to switch the lights on as I knew the electricity was disconnected due to nonpayment.
Slept somewhere in the living room.
Woke up with the third door bell that rang since morning. Opened the door.
The cook, the sweeper and the car washer waiting at the door, they must have heard from the security guard that we were back.
Guess I missed the newspaper wala & milkman in the first two door bells which went unattended.
In a role reversal, I had to instinctively make up a story to quench their inquisitiveness on where & why did we go without any notice.
Went to the kitchen. Predictably it was in a mess.
The refrigerator was stinking and so was the sink.
The Chicken Supreme Piza that we ordered on that fatal night when we got a call from a panicked well-wisher informing of the false 498a case and my sister-in-law's belligerence to get us all arrested was still lying on the kitchen slab.
Like old days, sat on my couch and read the newspaper patiently.
Wrapped the newspaper and as I bent to keep it on the table, noticed the envelopes I found last night.
Opened them. They were notices & notices & notices.
Notices from the banks reminding me of bounced Car Loan, Personal Loan and Credit Card EMIs.
Notices from telecom companies for non payment of bills.
Notices from the Landlord asking to vacate the flat as PDCs of last two months towards rent have returned due to insufficient balance in my account.
I was in a thick soup.
Switched on my original mobile numbers/phones which I had switched off as it was a regular affair for police to put mobiles of absconders on surveillance.
This reminded me that there would be a lot of people who had tried to contact us all this while.
I started asking myself…
How would I face my colleagues?
What am I going to tell them?
Can't everything be normal without my having to explain what happened?
Will people believe in me and understand that I am not guilty?
If the time when we were absconding was bad, post arrest stay was worse.
Problems that we kept ignoring as they seemed relatively less intense than us getting arrested had accumulated and turned into a frightening nightmare.
Somehow managed to recollect myself and gathered courage to face the world with self-belief and poise.
Chalked out a plan to get rid of all my loans and dues by December 2010.
Promised myself that if 2010 was the year to survive, 2011 will be the year to revive.

But destiny had other plans.
Never thought, the tidal wave of 498A will advance into a tsunami called 304B and devastate my entire family.
Imagine lightning striking the relief camp of injured and homeless earthquake victims.

A_man Fighting for Justice
304B - A Deadlier menace than 498A