Men cannot live without cooks
Did you know the Hon'ble Mr. Justice Dharam Veer Sharma who gave ayodhya verdict case have expert in law and also a cook. So, cooking is a hobby if you like it. Bollywood action hero Akshay Kumar, who worked as a chef in Bangkok at the start of his career, will host and judge Masterchef India, a culinary competition show that is slated to start on Star Plus television channel on 16 oct.2010. He said he still cooks for his family when he is at home or they are out on a picnic. "My wife says I cook sushi the best and my mother finds my biriyani best," he added.
We may live without poetry, music and art; We may live without conscience and live without heart; We may live without friends; we may live without books; But civilized man cannot live without cooks.
Men and women marry; somehow the women have to be superwomen. They have to take care of the kids, cook the food, maybe even have a full-time job and also coach. Well, that's tough.
I think it will be successful because the Food Channel has people so interested in cooking, especially so many men and the children are so interested.
I know women like men who can cook. I enjoy cooking myself. It is the most satisfying hobby I have ever had. In fact it is more than a hobby, it is a survival kit as if suppose your wife file false(suppose) 498 a ,125,or Dv case ,you can cook for yourself and if you have a kid you also cook for them too. If you want to effect change it's not enough to educate people. Individual behavior is influenced by the environments in which you live. Men living in the labor camps are primarily single, poor; they live in housing without cooking facilities. Look for military men; they make their food in a very tough situation.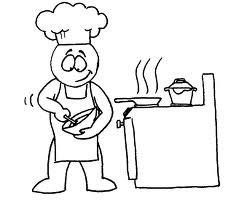 One more good thing about cooking is that it is much more enjoyable (and economical) if you cook for two. Also, I have found that cooking for two makes the dish much tastier. There must be something with the amount of ingredients used. So, cooking is good but it is also great to be the guest for a private dinner. Men like that. Some boys and girls who live in hostel also make a food .I remember one boy who is living in London and during study; he can make his own food. So, friends Sikh lo khana banana.
Bipasha Basu,an actress get turned on with her man cooking for her - John has little chance!John lags behind - Bips says ''I love men, who can cook. I would like my man to cook for me''.
I think most guys provide for the house and leave the cooking to their wives, but men should cook, too. Like if it's the wife's birthday, you've gotta cook her dinner, you know?
So, ladies and gentlemen's what you think about cooking ?If you don't know about cooking ,then watch Bollywood super star Akshay Kumar will host a new cookery Show on Star Plus television channel on 16 oct.2010.