The Moot Court Society of the Delhi Metropolitan Education affiliated to the Guru Gobind Singh Indraprastha University, New Delhi, invites you to participate in the DME International Moot Court Competition (Virtual), 2022, scheduled to be held on April 1-3, 2022. In association with Dhir & Dhir Associates.
Theme: Sexual Harassment at Workplace
Sexual harassment is rooted in cultural practices and is exacerbated by power relations at the workplace. Unless there is enough emphasis on sensitization at the workplace, legal changes are hardly likely to be successful. Workplaces need to frame their own comprehensive policies on how they will deal with sexual harassment. Instead of cobbling together committees at the court's intervention, a system and a route of redress should already be in place. As a leading institution of this country, DME endeavours to provide budding lawyers with the best possible exposure in terms of practical experience, and they believe that by organising such academic events, they strive to achieve that aim.
General Details
Date: April 1-3, 2022
Mode: Virtual
Eligibility Criteria
Team Eligibility for Registration: Participation is strictly restricted to bona fide law students pursuing 3-year or 5-year LL.B. and LLM degree courses in any college all over the Globe.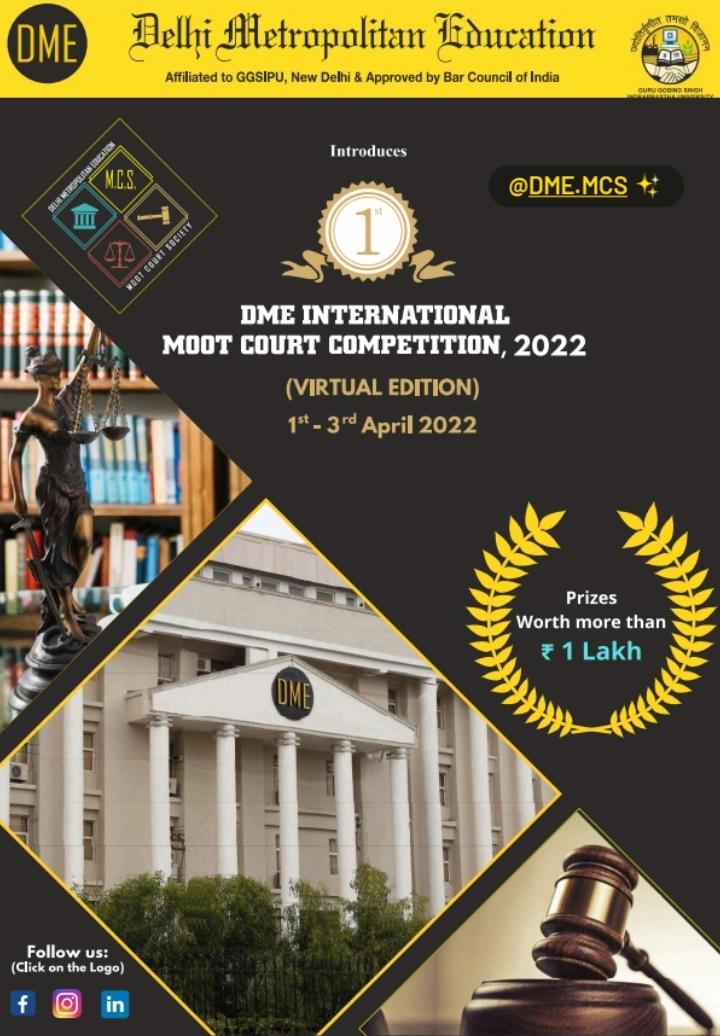 Awards
Cash Prizes worth more than ₹ 1 Lakh
Best Team: INR 50,000/-
Runners Up: INR 30,000/-
Best Researcher: INR 5,000/-
Best Speaker (Female): INR 5,000/-
Best Speaker (Male): INR 5,000/-
Best Memorial: INR 5,000/-
Second Best Memorial: INR 3,000/-
Contact for any query:
Ms. Riya Kumar (Convener): +91 7042611876
Ms. Megha Mishra (Co-Convener): +91-98181 19164
or mail at mootcourt@dme.ac.in
"Loved reading this piece by
Raghav Arora
?
Join LAWyersClubIndia's network for daily News Updates, Judgment Summaries, Articles, Forum Threads, Online Law Courses, and MUCH MORE!!"
Tags :
Students