WHAT WAS THE CASE ABOUT?
Ex- BSF Jawan Tej Bahadur filed an appeal before the Supreme Court in February, 2020 who challenged Prime Minster Narendra Modi's election from Varanasi contested in the year 2019.
Tej Bahadur's nomination as an independent candidate for Samajwadi Party from Varanasi was rejected by Returning Officer on May 1, 2019. In his nomination he admitted that he was terminated from the services of Border Security Force after a video exposing the cheap quality food provided to them went viral on social media. The Returning Officer wished to know the reason of his termination was it disloyalty to state or corruption as these grounds attract a bar of 5 years in contesting elections, but Tej Bahadur claimed that his dismissal was on some other grounds. The Returning Officer required a certificate from Election Commission in order to proceed for Tej Bahadur's nomination but he failed to do so and so the matter went before the apex court for interference. But, the apex court rejected it.
MATTER BEFORE THE HIGH COURT:
PM Modi pleaded before the High Court that Tej Bahadur's plea lacked locus standi as Section 81 of the people's Representation Act states that an election can only be challenged by a candidate or an elector of the constituency. It was also contended that Tej Bahadur was not even a registered voter of Varanasi and the plea was not maintainable under Order 7 Rule 11 of The Code of Civil Procedure.
On the other hand Tej Bahadur contended that returning officer failed to note that he had produced his dismissal letter while filing his nomination papers which clearly showed that he had been dismissed for alleged indiscipline and not for corruption or disloyalty to the State. Therefore, there was no requirement for any additional certificate to prove that he had not been dismissed of corruption of disloyalty.
In December 2019, the Allahabad High Court dismissed Bahadur's plea stating that he was neither a candidate nor an elector and so he cannot question the election. The court held, "When a candidate is dismissed from government service within 5 years of his filing a nomination, it is his obligation to procure a certificate from Election Commission stating that he was not terminated on the ground of disloyalty towards the state or corruption". The non-submission of certificate from Election Commission went against him.
MATTER BEFORE THE SUPREME COURT:
Previously Supreme Court dismissed the petition filed under Article 32 in May, 2019.
Again, Tej Bahadur has challenged the election of PM Modi and sought it to be set aside before the apex court. The petition states , " Appellant under Sections 80, 80 A and 84 read with section 100 of the Represenatation of the People Act, 1951, has prayed to declare the election of the respondent from Varanasi Constituency as void and to set aside the order by Returning Officer declaring Appellant's nomination as invalid." It further states that the Allahabad High Court committed a 'grave error' in holding that the appellant has no locus as being an unregistered voter of Varanasi.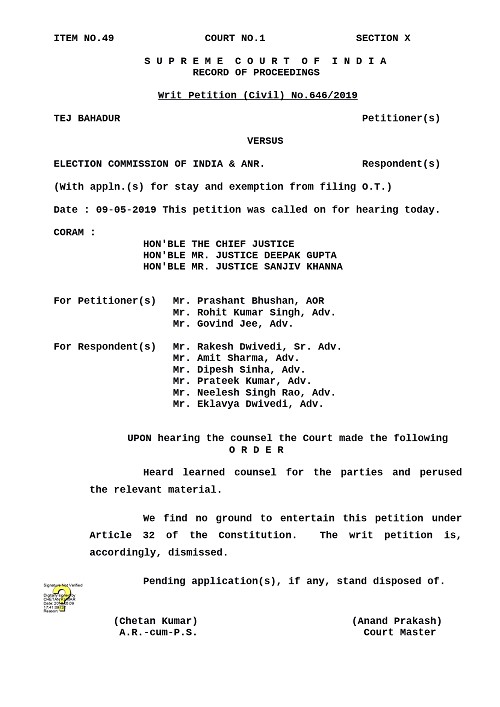 "Loved reading this piece by
Palak Singh
?
Join LAWyersClubIndia's network for daily News Updates, Judgment Summaries, Articles, Forum Threads, Online Law Courses, and MUCH MORE!!"