WHAT IS THE ONE NATION, ONE RATION SCHEME?
COVID-19 pandemic has caused havoc in the lives of people; the governments as well as the citizens are struggling to cope up with this crisis situation. But in the absence of basic income and food security one of the most affected classes is the one of migrants.
According to the 2011 census, there are 45 crore internal migrants who accounted for 37% of the population; it shows the gravity of situation in Indian scenario.
Thus, this scheme will be instrumental in the welfare of migrant workers and play a vital role in averting migrant crisis that exist today.
Finance minister NirmalaSitharaman while announcing the scheme said that the scheme is expected to benefit 670 million people in 23 states.
RATIONALE OF THE SCHEME:
The scheme has been launched by Ministry of Consumer Affairs, Food and Public Distribution.
The scheme aims to operate from 1st July, 2020 which will allow poor migrant workers to avail food security benefitsand buy subsidized wheat & rice from any ration shop in the country.
This scheme provides for Inter-State portability of ration cards. It enables the migrants who travel place to place, and want to avail the benefits of taking food grains under Public Distribution System, to do soin a seamless manner at every place.
The government covers nearly 81 crore people of the country under the National Food Security Act (as per 2011 census), which includes some of the most vulnerable sections of the society; thus, the scheme will help in integration of the country and making sure that no genuine beneficiary is turned back only for the reason of not possessing ration card of that place.
Within the states there will be an intra-state portability. The states which are ready for it now are Andhra Pradesh, Gujarat, Haryana, Jharkhand, Karnataka, Kerala, Maharashtra, Rajasthan, Telangana and Tripura.
Before this scheme: If a beneficiary were to shift to another state, he/she had to apply for a new ration card and so geographical location was one of the hindrances that migrant workers faced in order to claim their quota of grains.Also, before this scheme different types of ration cards were issued depending on the level of deprivation. Later, in 2013, when the National Food Security Bill was passed, different ration cards were compressed to just two — priority and Antyodaya (for the poorest).
IMPLEMENTATION OF THE SCHEME: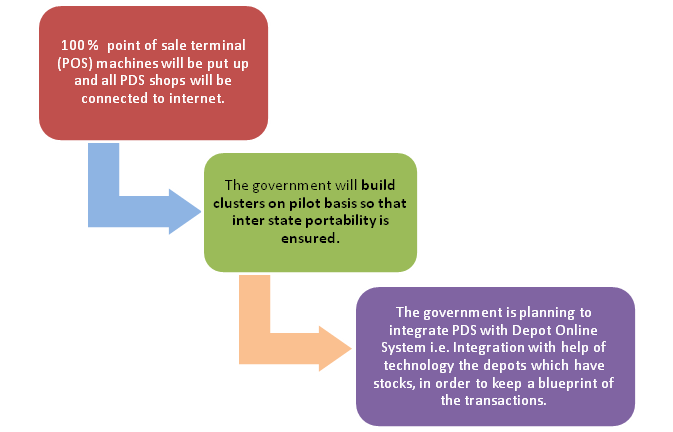 BENEFITS OF THE SCHEME:
Interoperability of Ration Cards: Universal access to PDS food grains for migrant workers.
Achieving SDG: This will help in achieving the target under SDG 2: Ending hunger by 2030 and will also improve India's Global Hunger Index.
Empowering Consumers and Reducing Social Discrimination: It will give beneficiaries the opportunity to opt for dealer of their choice and specially benefit women and other disadvantaged groups.
State governments have been asked to issue the ration card in bi-lingual format, wherein besides the local language, the other language could be Hindi or English which will prevent any linguistic boundaries creating problems in the same.
It will also help in keeping a check on black marketing.
It will also improve access and service quality by removing Monopolies.
"Loved reading this piece by
Deeksha Chugh
?
Join LAWyersClubIndia's network for daily News Updates, Judgment Summaries, Articles, Forum Threads, Online Law Courses, and MUCH MORE!!"