IDEX LEGAL, known for its flagship event Legal Counsel Congress, recently concluded the launch edition of The Law Firm Congress - its latest initiative for Senior and Managing Partners of law firms.
The conference hosted several meaningful discussions from excellent panelists and speakers and was peppered with insightful questions from the audience, making the forum not just a platform for exchanging ideas but also finding solutions to some of the most pressing concerns Managing Partners across India face in running their firms.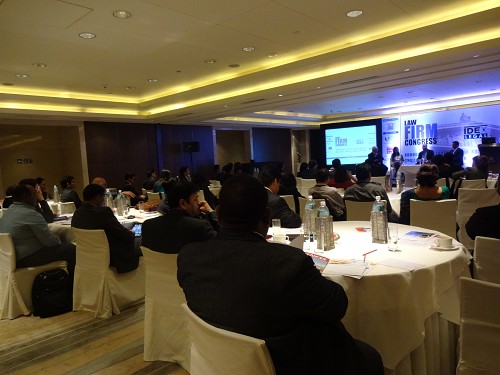 The conference focused on addressing critical strategic and business challenges faced by law firms such as identifying the right growth strategy for your firm, effective metrics for talent measurement, technology for matter and finance management for law firms and the client's view on their expectation from law firms. The conference closed with an interesting 90 minute session which saw three Managing Partners and a CEO share their stories on going from failure to success.
"We're absolutely delighted that 2013 has been a golden year for IDEX LEGAL with our initiative for Law Firms. And with feedback consistently positioning us as the primary organiser in the country that brings quality, relevant content to the legal community, whether it is for In-house Counsels or Managing Partners, we strongly believe that for those seeking a quality networking platform to exchange ideas, the Law Firm Congress is their de facto forum. And we look forward to serving quality forums that tackle the real issues that impact the legal industry every day for years to come." said Vikas Vij, Managing Director of The Ideas Exchange.
Their next event will be the annual Legal Counsel Congress & Awards which will take place in Mumbai on 13-14 March 2014. The LCCA addresses the challenges GCs and legal decision makers' face and will also felicitate them for their contribution to the corporate legal landscape via The IDEX LEGAL Awards, one of the most credible awards in the Indian legal fraternity. The awards are not just restricted to in-house counsels. The IDEX LEGAL Awards also honour and felicitate the law firms across through various categories. You can visit their website for the submission document or write in to IDEX LEGAL at varkha.israni@ideas-exchange.in
For more information, you can visit the event websites mentioned below:
www.lawfirmcongress.in
www.legalcounselindia.in
www.linkedin.com/groups/IDEX-LEGAL-5040907
"Loved reading this piece by
Guest
?
Join LAWyersClubIndia's network for daily News Updates, Judgment Summaries, Articles, Forum Threads, Online Law Courses, and MUCH MORE!!"