Symbiosis Law School, Pune
Dr. Shashikala Gurpur, Director Symbiosis Law School, Pune and Dean, Faculty of Law, Symbiosis International University, brings a proud moment once again for the entire Symbiosis Fraternity. Having tasted international recognition many a times it's the Vijay Foundation this time conferring upon her the "Award for excellence in legal sector".
The selection for this prestigious award was done by the eminent legal personalities from the state of Maharashtra including, Mr. Bhimrao Naik, former judge Bombay court & Sr. Advocate Supreme Court of India, Adv. Hitesh Jain and Mr. Shrihari Aney, Sr. Advocate Bombay High Court . The award was conferred upon her in a grand function at Akluj, Dist. Solapur, Maharashtra today the 26th of October, 2013.
Vijay Foundation is the initiative of Mr. Ranjitsinh Mohite-Patil, Member, Maharashtra Legislative Council (2004-09) and former Member of Parliament, Rajya Sabha. Mr. Ranjitsinh Mohite-Patil is the son of Vijaysingh Mohite-Patil, former deputy chief minister, Maharashtra. The trust is involved in social activities that work for the betterment of society at large with the special emphasis on empowerment of women and children through its various activities in that regard. The award was instituted in the year 2011 to honor the individuals who excelled in the legal field.
This award has come as recognition of her outstanding contribution towards academics along with the special contribution towards empowerment of women & children.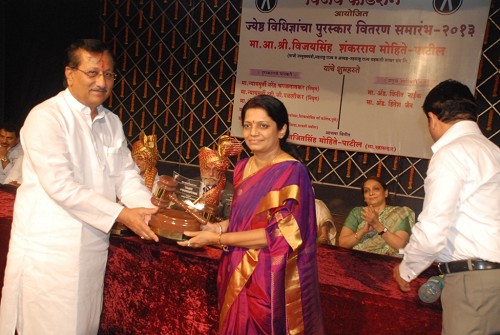 Dr. Gurpur, a recipient of Fulbright-Nehru International Education scholarship – 2011, is a distinguished academician who has been the recipient of the National and South Asian Legal Education Innovation Award 2011 conferred by SILF and MILAT. She has also been the Part time member of the 19th Law Commission of India and is now the member of the Bar Council of India. Her vast experience in the education sector in India and abroad has brought in many new ideas and vision for the institution. She has been nominated as the member of the General Council of NALSAR University of Law, Hyderabad and member of the International Advisory Board of Irish Journal - Irish Review of CED Law & Policy, Northside Community Law Centre, Dublin, Ireland (2011) & IALS, International Legal Education, USA. She attained visitor status to teach in Foreign Service Institute, Ministry of External Affairs, New Delhi. She has been M. Phil and Ph.D. referee to JNU, New Delhi, Ph.D. referee to NLU, Jodhpur, Nagpur and Mumbai University and Examiner in NUJS, Kolkata. She is also the member of the Research & Recognition Committee of Faculty of Law and nominated in Academic Council of B. P. S. Mahila Vuishwavidyalaya, Sonepat, Haryana. She has also been on the Advisory of All India Radio, Mangalore, Advisory to several NGOs on Gender, Development and Human Rights and Asian Network of Women in Communication. She has been a resource person at the Judicial Academy and also a resource person at several other distinguished forums.
We wish her all the best for her every future endeavor.
"Loved reading this piece by
Guest
?
Join LAWyersClubIndia's network for daily News Updates, Judgment Summaries, Articles, Forum Threads, Online Law Courses, and MUCH MORE!!"