Symbiosis Law School, Pune, established in 1977 under the illustrious banner of Symbiosis Society has been a constituent of Symbiosis International University since 2002
It has been consistently ranked among the top 10 Law schools of the country (out of more than 1000 law colleges and 14 National law Schools).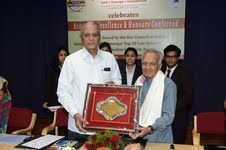 On16th February2013, the Bar Council of India honored it with the Gold Star award in special recognition of its outstanding services to legal education. According to India Today & Week's Ranking Symbiosis Law School, Pune holds the privilege of being thebest Private Law College in the country today.
The team Symbiosis under the stewardship of Dr. ShashikalaGurpur, Fulbright Scholar, Director, Symbiosis Law School, Pune and Dean, Faculty of Law, Symbiosis International University, Pune, a distinguished academician embellished with series of prestigious awards and the excellent, young, dynamic faculty with global exposure and excellent teaching & research credentials have an un-quenching thirst to be the best.
Recently the college has been awarded with the prestigious Society of Indian Law Firm Award, adding one more feather to the already bejeweled hat of the college. Marking this occasion college hosted a cultural extravaganza today the2nd July, 2013, called, "celebration of excellence".
The evening's major attraction wasthe felicitation of Mr. Bhagwan G. Gujar, Former Director, RajyaSabha Secretariat,at the hands of Padma BhushanDr S. B. Mujumdar, Founder and Chancellor Symbiosis International University, founder director Symbiosis, for his magnanimous & invaluable donation of facsimile copy of the original constitution of India.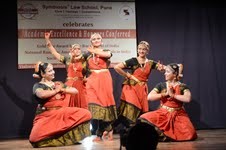 The Facsimile Copy of the 'Original Indian Constitution' has been signed by the eminent members of then Constituent Assembly including Hon'ble Dr. ShriRajendra Prasad, Hon'ble Dr. Shri B. R. Ambedkar and Hon'bleShri Jawaharlal Nehru'.Mr. Bhagwan G. Gujar has donated the abovementioned ornamental copy of 'Original Indian Constitution' to the Law College so that it inculcates a sense of patriotism & respect for the supreme law of the land within the students of Law. This treasured copy of the original constitution will serve as an inheritance for the future generation of the students. It will be a motivating light for all concerned to bring social equality and justice and inspire the students to take the mandate of the constitution further.
Celebration of Excellence reached its zenith with the performance of Bharatnatyam dance by Ms Nrupa Soman, the Principal, NrityaPrerna School of Dance.
It is a matter of great honor and privilege for the entire symbiosis fraternity as the awards and honors conferred upon Symbiosis Law School, Pune, has been the result of consistent efforts put by the team Symbiosis comprising of management, faculty, staff& students along with the support & encouragement of all its stakeholders.
"Loved reading this piece by
Guest
?
Join LAWyersClubIndia's network for daily News Updates, Judgment Summaries, Articles, Forum Threads, Online Law Courses, and MUCH MORE!!"