After tabling the Economic survey for the financial year of 2018-19 on July 04, 2019, India's first-ever full time Finance Minister Smt Nirmala Sitaraman is set to present her first General Budget 2019 before the Parliament today, i.e. 05th July 2019 just a day after presentation of Economic Survey which quoted the low rate of growth of India's Economy.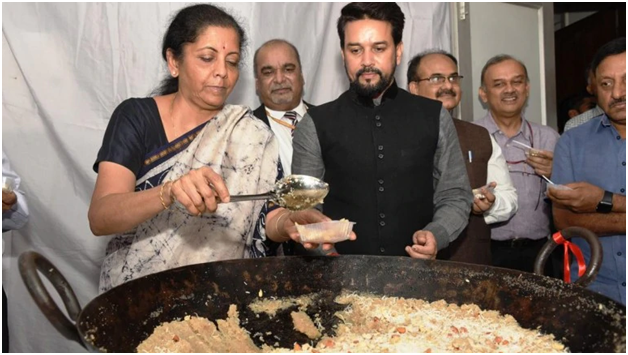 IMAGE 1: Finance Minister Smt Nirmala Sitaraman carrying forward the age old ceremony that takes place before the initiation of the budget session.[1]
The 10 most important things on which the eyes are all set to witness from the General Budget 2019 are as follows:[2]
Smt Sitharaman could lower corporate taxes for small and medium-sized businesses as well as personal ones to revive consumption by the middle class while withdrawing some tax exemptions.
The Budget comes at a time when India has lost its top spot as the world's fastest-growing major economy. India's GDP or gross domestic product growth slipped to 5.8 per cent in the March quarter - the slowest pace in 20 quarters. A primary focus in the Budget is widely expected to be on ways to boost economic growth.
Many analysts expect that the personal income tax structure will not be tweaked, as it may contradict the government's aim to expand taxpayers' base. However, some expect tax implications for the super rich, such as reintroduction of a long-abolished inheritance tax.
Ms Sitharaman also has to take into account a tough disinvestment target in a slowing economy. The government is looking to raise ₹ 90,000 crore from disinvestment in 2019-20, up 5.88 percent from ₹ 85,000 crore it received the previous year.
The Finance Ministry may also focus on steps to boost employment and exports. It may consider fiscal incentives like interest rate subvention and lower tax rates for up to a certain turnover threshold for small businesses.
In its Economic Survey 2019 prepared by the new Chief Economic Adviser KV Subramanian, the government projected the GDP or gross domestic product to grow at 7 per cent in financial year 2019-20.
The government is likely to stick to a modest rise in defence spending in Budget because of tight government finances, news agency Reuters quoted officials as saying in a report earlier this week. That would further delay a long-planned military modernisation programme.
"The focus of the budget will be to boost domestic consumption, address the rural crisis and support small manufacturers," Gopal Krishna Agarwal, BJP's economic affairs spokesman, told Reuters.
Any announcements aimed at addressing the crisis in the non-banking financial companies (NBFC) sector - also known as the shadow banking sector - will be watched closely, say analysts. Last year, the government took control of Infrastructure Leasing and Financial Services after its defaults triggered fears about contagion in the financial sector.
In the interim Budget announcements in February, the government made a number of big ticket announcements to build public perception. Those measures included a ₹ 75,000-crore income guarantee scheme from small farmers and a full tax rebate to individuals earnings up to ₹ 5 lakh a year.
Thus, all eyes of India will be at the presentation of budget which will commence at 11:00 AM today.
[1] India Today Web Desk, Budget 2019: Halwa ceremony held at the finance ministry, printing of budget documents starts, INDIA TODAY (July 05, 2019, 08:45 AM), https://www.indiatoday.in/budget-2019/story/halwa-ceremony-nirmala-sitharaman-finance-ministry-printing-budget-documents-starts-1554168-2019-06-22.
[2] NDTV Profit Team, Nirmala Sitharaman To Present Her First Budget Today, Here's What To Expect, NDTV (July 05, 2019, 08:41 AM), https://www.ndtv.com/business/budget-2019-nirmala-sitharaman-to-present-her-first-budget-expectations-preview-announcements-2064268.