In the letter dated 01st July 2019 to the Hon'ble Prime Minister of India Shri Narendra Modi, Allahabad High Court Justice Shri Rang Nath Pandey has shown his grievance relating to the persisting problems in the existing Collegium System for the appointment and transfer of High Court and Supreme Court judges in India.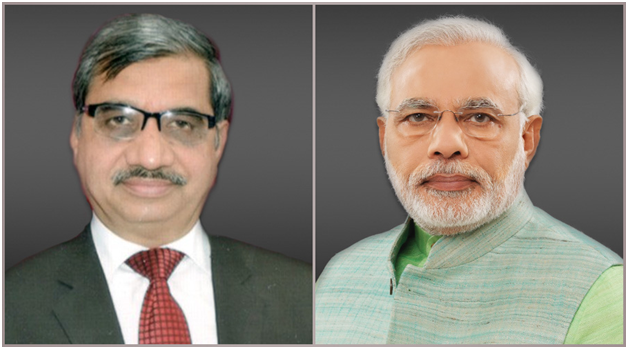 IMAGE 1: Allahabad High Court Justice Shri R.N. Pandey & Hon'ble Prime Minister of India Shri Narendra Damodardas Modi (Left to Right).
In his letter, after congratulating the Prime Minister for assuming the office for the second time Justice Pandey has sown deep regret while quoting the existing collegium system as 'fraught with opaqueness, favouritism and bias'. He further alleged that, 'when the appointment of the relatives of some senior judges as High Court judges is difficult, they are made judges in the subordinate judiciary as the selection and appointment of subordinate judges is done under the aegis of the State Public Service Commission and the concerned High Court and this practice discourages capable advocates from humble backgrounds'.[1]
Justice Pandey has also remarked that the Central Government's step to create a National Judicial Service Commission had given hope of transparency. However, the NJAC Act was unfortunately struck down by the Supreme Court.[2]
Thus in relation to the same, he has urged the Hon'ble Prime Minister to look into the matter and reconsider the effectiveness of collegium system, either modifying so as to remove the flaws or replacing it with a more transparent system of transfer & appointment of the Judges of the Constitutional Courts in India.
Now all eyes are set on the reply which Hon'ble PM will revert in lieu of Justice Pandey's letter, which will clear the government's stance on the age-old system of Collegium.
Copy of Justice Pandey's Letter can be reached out on this link:
https://drive.google.com/file/d/13zfWvpCEFPEOx7SqJKtprl_mmlSrhwhw/view?usp=sharing
[1] Aditi Singh, Collegium fraught with opaqueness, favouritism: Allahabad HC judge writes scathing letter to PM Narendra Modi, BAR & BENCH (July 03, 2019, 08:00 AM), https://barandbench.com/collegium-favouritism-justice-rang-nath-pandey-allahabad-high-court-narendra-modi/.