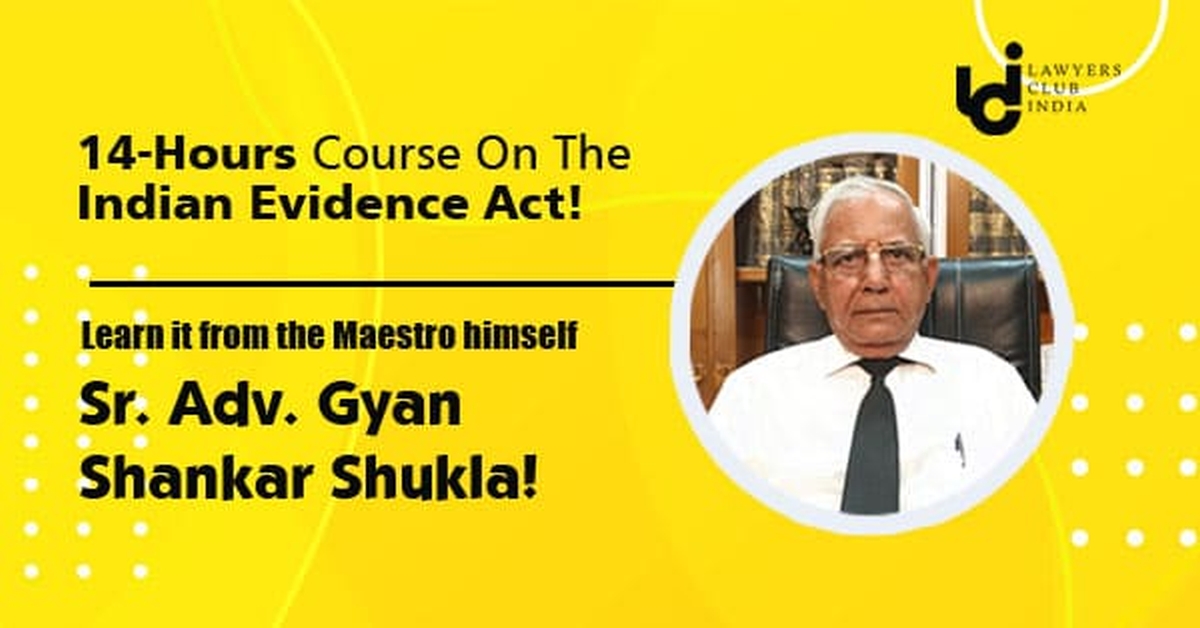 "The eternal law is to teach and to learn everything through examples, instructions and application in practice" Comenius
Law is one of the most dynamic subjects in the universe. While theoretical knowledge is of utmost importance, law is oft best learnt outside the textbook. Perhaps, that is the beauty of the subject. It is ever evolving and its students are always in pursuit of it. Such knowledge cannot be contained in textbooks. It breathes in courtrooms, lawyer's chambers and of course, in the experiences and expertise of master legal professionals.
LAWyersclubindia presents a comprehensive 14-hours course on the Indian Evidence Act. The course acts as a stellar platform to read, connect and apply the law in practice. The instructor for the session will be none other than the master himself, senior advocate - Guru Gyan Shankar Shukla. Mr. Gyan Shankar Shukla is one of the most experienced and knowledgeable lawyers in the country as of now. He has an experience of almost 50 years in the legal practices and has prosecuted and defended in various high-profile cases in his legal journey.
While most courses concentrate on the theoretical aspect of the act, this session is designed in a unique manner to help the students to understand the applicability of the act in a real-life setting. Thus, the course not only places its focus on merely reading the Indian Evidence Act, 1872 but also places heavy reliance on the practical application of the Act.
In addition to this, the session will also touch briefly on other acts that are used in congruence with the act such as IPC, CrPC, POSCO, and other Hindu Laws. The session will be divided into 4 parts. Each part will be covered on separate days i.e. – 25th and 26th July & 1st July and 2nd August, 2020

To register for a once-in a lifetime opportunity to interact with the master by asking anything on the Q/A session, get 100+ judgement summaries and short notes on the subject. On the completion of the session, you will be eligible to be awarded an e- certificate.
HIGHLIGHTS
July 25th, 2020 : Introduction & Relevancy of the Indian Evidence Act , i.e. Section 1 – 55 of the Act
July 26th, 2020 : Exploring the provisions of Section 145-157 of the Indian Evidence Act, 1872
August 1st, 2020 : Examining the provisions of Section 57-91 of the Indian Evidence Act, 1872
August 2nd, 2020 : Examining the provisions of Section 91-145 of the Indian Evidence Act, 1872

IMPORTANT THINGS TO NOTE
The medium of communication in this session would be Hindi
Fees – Rs 1,300 for the entirety of the 4 days of the session.
For any further queries, contact : 011-411-70713
Tags :