INTRODUCTION
The world has been battling an alluvion of misinformation and influence on operations for a long time now. With the advent of internet and social media platforms has given a free run to criminals, miscreants, nation states and other motivated actors. In fact, society, today is experiencing something called an 'information disorder' where it has become extremely difficult to disambiguate truth from falsehood, usually the above is done by 'spicing up the news' in order to get more views, in order to get more publicity of news channels.
Not only the above but theexpansion of technology, cheap smartphones, and reasonable data rates has enabled the democratization of online content making traditional journalistic controls of verification unfeasible. Thus, the unconfined flow of speech has become vulnerable to the peddling of unverified information as well as giving unlimited freedom to misuse the real news.
'Fake news' or misinformation is something which isn't the only of our country but has become a global concern since the rise of unpleasant incidents that have challenged the users' trust in the news.The root cause of this issue is lack of policy implementation or laws which could either curb fake news or hold such perpetrators accountable for their action, making the situation complex and challenging. Responsible and informed citizens have time and again raised the issue to review and amend the existing laws and regulations to meet the challenges of spreading of the fake newsbut efforts by both policymakers and civil societies have not been enough to address this huge lacuna within the overwhelming news sharing space available in this era. Media is now a web of propagandaand everything is about more views than news.
India, being a massive market for WhatsApp application, has more than 200 million active users and this number has only been increasing, making it as one of the easiest and fastest-growing platforms. Even though we have been familiar with the term 'fake news' since a century at least but it attained a renewed interest among media scholars and journalists in recent times, only because of the sudden rise of hoaxes propagated.
A few years ago, 'fake news' was a rarely used terminology but today, it has become one of the capital threats to the existing system of democracy and one of the hot topics for the debaters. Fake news hasn't been defined anywhere though it can be defined as 'untrue and unverified news.' 'Untrue' means false facts, whereas 'unverified' means where the facts might be true, but the numbers and characters are false. The factor that makes fake news a concern is that it allows subjective interpretations of the concept, thus making it difficult to study or allow any policy interventions. Fake news may comprise of stories, news, and hoaxes created to misinform deliberately or deceive readers or to push a political agenda. In contemporary times, various media propagate fake news.
On February 15,2020 the director-general of the World Health Organization, addressing the Munich Security Conference, asserted that 'we're not just fighting an epidemic; we're fighting an infodemic'
'Fake news spreads faster and more easily than this virus(covid-19) and is just as dangerous,' he said. He advocated that science and evidence must lead policy.
PRESENT SCENERIO IN INDIA
There is no secret in the fact that news aired by news channels and same available over online media platforms performs a great deal in shaping opinions of people across the world but if we talk about its consequences, they are even worse in a country like India.According to a report by Indo-Asian News Service (2018), a very significant portion of such news/ messages revolves around the basic idea of nationalism and nation-building. In scenarios like these, where the main idea behind spreading news is related to nationalism, the facts become less important for the users than the emotional desire to bolster their national identity.
Thus, it is very clear acts of spicing up or twisting up the facts is done to play with the emotions of the users in order to get as much as publicity as possible and real facts hold very little importance in today's date. Such acts of going over board and presenting vague/bogus news are examples of degraded quality of journalism in today's date.
Unlike other countries, the prime distributor of fake news in India is WhatsApp, but not other social networking sites like Facebook or Twitter.This social media platform allows its users to share information by forwarding it to other users in various groups and broadcast lists within the same platform which has led to widespread, unchecked distribution of information rarely vetted by users. The result of the same is so significant that it could be named serious 'social challenge',it has not only misinformed the users on social media but also triggered violence and barbaric killings around the country resulting in a poisonous atmosphere and then airing the same over news channels debarring the public from actual concerns of the country and shifting the entire focus somewhere else.
The influence is so huge that at times even scholars and ministers have been seen posting or commenting public about a fake news without knowing its authenticity.
CURRENT LEGISLATION
No provision in Indian law specifically deals with 'fake news' or misinformation. However, the following offenses under different acts criminalize certain forms of speech that may constitute 'fake news' and apply to online or social media content:
INDIAN PENAL CODE,1860
SECTION 124A. SEDITION: 'Whoever by words, either spoken or written, or by signs, or by visible representation, or otherwise, brings or attempts to bring into hatred or contempt, or excites or attempts to excite disaffection towards, the Government established by law in India, shall be punished with [various combinations of terms of imprisonment and/or fines].'
SECTIONS 153A:Promoting enmity between different groups on ground of religion, race, place of birth, residence, language, etc., and doing acts prejudicial to maintenance of harmony.
SECTION 292. Sale, etc. of obscene books.
SECTION 295A. Deliberate and malicious acts, intended to outrage religious feelings of any class by insulting its religion or religious beliefs. 'Whoever, with deliberate and malicious intention of outraging the religious feelings of any class of citizens of India, by words, either spoken or written, or by signs or by visible representations or otherwise, insults or attempts to insult the religion or the religious beliefs of that class, shall be punished [with a fine and/or imprisonment].'
SECTION 499. DEFAMATION. 'Whoever, by words either spoken or intended to be read, or by signs or by visible representations, makes or publishes any imputation concerning any person intending to harm, or knowing or having reason to believe that such imputation will harm, the reputation of such person, is said, except in the cases hereinafter excepted, to defame that person.'
SECTION 503. Criminal intimidation.
SECTION 504. Intentional insult with intent to provoke breach of the peace.
SECTION 505. Statements conducing to public mischief.
SECTION 505(1): The punishment for making, publishing or circulating any statement, rumour or report which may cause fear or alarm to the public, or to any section of the public.Imprisonment which may extend to 3 years or fine or both
THE INFORMATION TECHNOLOGY ACT, 2000
SECTION 66D: Whoever, by means for any communication device or computer resource cheats by personating. Imprisonment of either description for a term which may extend to three years and shall also be liable to fine which may extend to one lakh rupees.
Offenses, listed in Chapter XI of the Act, specify punishments for publishing obscene[1] and sexually explicit material.[2] As noted above, the IT Act had a section 66Athat could have been applicable to instances of fake news, but has since been struck down by the Supreme Court on the ground that did not fall within any of the reasonable exceptions to the exercise of the constitutional right to freedom of expression. As described by the Court, the provision had prohibited 'the dissemination of information by means of a computer resource or a communication device intended to cause annoyance, inconvenience or insult.'[3]
SECTION 79 of the IT Act grants limited immunity to intermediaries for any illegal content posted by third parties. In 2018, a calling attention motion on the misuse of social media platforms and the spreading of fake news was admitted in the Rajya Sabha, the upper house of India's National Parliament. The Minister of Electronics and Information Technology responded to the motion on July 26, 2018, and 'made a detailed statement where he inter alia conveyed to the House the resolve of the Government to strengthen the legal framework and make the social media platforms accountable under the law.'[4] Subsequently, the Ministry prepared the draft Information Technology (Intermediary Guidelines (Amendment) Rules 2018 which would amend the rules notified in 2011. Under the draft rules' intermediaries would be required to proactively monitor and filter unlawful content[5] and provide for the TRACEABILITY OF USERS.[6]
SECTION 69A of the Information Technology Act allows the Central Government to issue directions to block content on certain grounds, including to prevent incitement for the commission of a cognizable offense. Procedures and safeguards to which the government must adhere when doing so are set forth in the Information Technology (Procedure and Safeguards for Blocking for Access of Information by Public) Rules, 2009 (known as the Blocking Rules).
SECTION 54 OF THE DISASTER MANAGEMENT ACT, 2005: Whoever makes or circulates a false alarm or warning as to disaster or its severity or magnitude, leading to panic.
Punishment: Imprisonment which may extend to one year or with fine.
THE PRESS COUNCIL ACT, 1978, it can warn, admonish or censure the newspaper, the news agency, the editor or the journalist or disapprove the conduct of the editor or the journalist if it finds that a newspaper or a news agency has offended against the standards of journalistic ethics or public taste or that an editor or a working journalist has committed any professional misconduct.
IS REGULATING NEWS BEFORE ALLOWING THEM TO AIR IS VIOLATIVE OF ARTICLE 19 OF OUR CONSTITUTION?
The answer is no, though Freedom of expression as mentioned in the preamble of our Constitution and the right is protected under article 19, which states that '[a]ll citizens shall have the right . . . to freedom of speech and expression.'[7] This right is not absolute and is subject to 'reasonable restrictions' 'in the interests of the sovereignty and integrity of India, the security of the State, friendly relations with foreign States, public order, decency or morality, or in relation to contempt of court, defamation or incitement to an offence.'
In the 2015 case of Shreya Singhal v. Union of India,[8] which tested the scope of the 'reasonable restrictions' standard, the Supreme Court of India struck down section 66A of the Information Technology Act, 2000, holding that 'the [section's] prohibition against the dissemination of information by means of a computer resource or a communication device intended to cause annoyance, inconvenience or insult did not fall within any reasonable exceptions to the exercise of the right to freedom of expression.''It is clear,' the Court said, 'that Section 66A arbitrarily, excessively and disproportionately invades the right of free speech and upsets the balance between such right and the reasonable restrictions that may be imposed on such right.' The Court also stated that the definition of offenses under the section were both 'open-ended and undefined' and that '[t]he information disseminated over the Internet need not be information which 'incites' anybody at all. Written words may be sent that may be purely in the realm of 'discussion' or 'advocacy' of a 'particular point of view.'' However, in other cases, the Supreme Court of India has upheld restrictions on free speech such as in the case of Subramanian Swamy v. Union of India,[9] which upheld the constitutionality of the criminal defamation sections of the Indian Penal Code.
THE MOST PRESENT EXAMPLE OF MISINFORMATION IS BY THE COUNTRY CHINA AGAINST INDIA
If we talk about China it has been claimed worldwide that China has been manufacturing and disseminating fake news since a long time against many countries. With its latest clash with India at Galwan Valley, it left no stone unturned to destroy the images of India and project itself as righteous. The most glaring examples is, 美麗的男何金濤 (@CNPakWW): The Self-Proclaimed Harbinger of 'China-Pak Friendship'. @CNPakWW by the operator's own admission is a handle which stands for 'friendship' between China and Pakistan.
The misinformation shared by @CNPakWW can be broadly grouped into three main categories:
Sharing unverified videos to assert the strength of the People's Liberation Army (PLA) of China over the Indian Army.
Using misleading information to pitch India against other South Asian countries like Nepal, Bangladesh and Sri Lanka.
Twisting facts and leaving out crucial details from events to criticise India over its handling of the country's internal matters.
Reiterates 'Fake Army Hospital' Lie: After Prime Minister Narendra Modi's visit to Ladakh on Friday, 3 July, a slice of fake news went viral on social media with a claim that the Indian army created a fake hospital at Leh as photo-op for Modi. The same was also shared by the profile in question.
On 30 June, the handle also shared an unverified video with a claim that it shows Indian Army torturing soldiers of the Gorkha Regiment. This, in the backdrop of rising tensions between India and Nepal.
Whereas, if we talk about India, though India has not manufactured any lies about Galwan Valley Incident but in order to gain publicity news channels have here and now used various news statements to instigate Indians against China. Like:
Calling Covid-19 a Chinese virus and trending it with using hashtags like, '#chinivirus'
Delivering hate speeches against China over debates on news channels with having any authenticity of those arguments or speeches used.
STATISTICAL SURVEYS OF INDIA BY BBC ASIA IN LAST FEW MONTHS
Every day thousands of fake news gets viral about one thing or another, there have been 'n' number of examples of the same, like a news piece claiming keeping some herbals in your pocket would prevent coronavirus and so on.
BBC said, they've looked back at claims debunked by five Indian fact-checking websites between January and June this year.
They fall under four broad headings:
Coronavirus outbreak
February's Delhi riots
Citizenship Amendment Act
Claims about the Muslim minority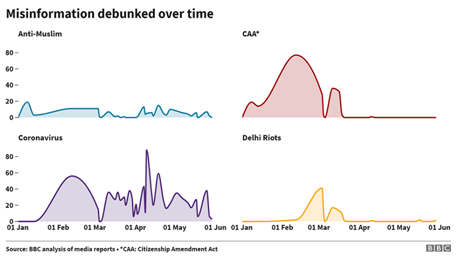 MEASURES TO BE TAKEN TO COUNTER FAKE NEWS
Fake News has become a menace which could only be curbed when collective efforts are made from individual to policy level.
First and most important, awareness: In India, awareness campaigns have been released by various service providers to alert users about the consequences of fake news and why it is important to be self-aware before forwarding any message without carrying any authenticity. In December 2018, WhatsApp released out three ad films as a part of their strategy to fight back circulation of fake news ahead of general elections these campaigns asked the users to check the integrity of the information they receive on forward messages, before sharing it to others.Purpose of any news is to make people aware of what is happening around and allow people to have a common ground to converse to constitute a dynamic public sphere.
The news industry must provide high-quality journalism in order to build public trust and correct fake news and disinformation without legitimizing them.Governments should promote news literacy and strong professional journalism in their societies.
Educational institutions should make informing people about news literacy a high priority. Ascertaining the source and origin of the message. If one is not sure of the authenticity and correctness of the message or its content, one may make attempts to be sure of the veracity of the matter before forwarding it to others. In case of any claims made in the message one has received, conduct secondary checks on google or other sites before disseminating it.
Technology companies should invest in tools that identify fake news, reduce financial incentives for those who profit from disinformation, and improve online accountability.
Promotion of factchecking websites and applications by government and other providers.
Pre-censoring of news and information by government to a limited extent.
Setting up decentralized three-point agenda to address fake news. The first prong is to ensure critical media literacy, with critical digital literacy as a component. The second prong is to nurture a general culture of scepticism among citizens towards information.Lastly, in a limited set of situations, such as when there is threat to life or national security, targeted and proportionate legal interventions can be explored.
Lastly, proper laws and legislation for the same under IT Act.
[1] Section 67
[2] Section 67A-67B
[3] Shreya Singhal v. UOI
[4]Comments / Suggestions Invited on Draft of 'The Information Technology [Intermediary Guidelines (Amendment) Rules] 2018, Ministry of Electronics & Information Technology
[5]Rule 3(9)
[6]Rule 3(8)
[7]Article 19(1)(a)
[8]Shreya Singhal v. Union of India, Writ Petition (Crim.) No. 167 of 2012 (Mar. 24, 2015)
[9]Association for Progressive Communications (APC), State of the Internet in Asia: The Case of India, Malaysia and Pakistan 21 (2017)
"Loved reading this piece by
Namami Jain
?
Join LAWyersClubIndia's network for daily News Updates, Judgment Summaries, Articles, Forum Threads, Online Law Courses, and MUCH MORE!!"
Tags :
others