Recently, we have come across many incidences such as the zomato case and vikram tiwari acquittal after 20years, there have been a massive backlash of women and feminists on the social media. Whosoever was at fault in these cases, the gendered right wing got another opportunity to express their abhorrence for modern feminism.
This article is an attempt to explain how feminism is not a pejorative, and is actually a fight for equal opportunity. Further in this article we shall see how law has played a part in establishing patriarchy and the attempt of the judiciary in reducing the same. Though, the Indian judiciary has tried to reduce patriarchy, yet it is not enough so long as the society is adhered to embracing the patriarchy.
INTRODUCTION
Feminism is quite a popular word these days, and thanks to the escalated use of social media platforms everybody seems have a different interpretation of the term. While women are coming out to speak up for themselves, there is another group in existence who is condemning the same. Very often we come across posts which highlight the issues that are being faced by the men in the society and in any sense it is not being dismissed that they do not face challenges. The question however is on the manner it is put up and of course the intellect behind it. For example-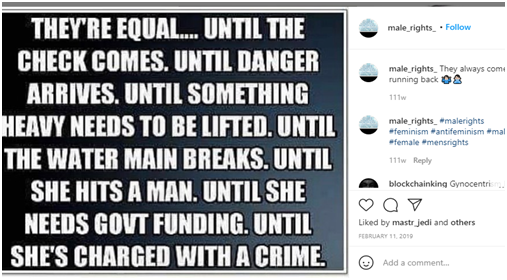 This is a social media post which describes when and why women want equality.
Now many may think what is the use of highlighting this? The point is we as a society and as a generation have actually dropped the ball in understanding feminism. Feminism in no sense means hatred towards men. It aims to demolish patriarchy. Toxic masculinity, another quite in trend word, is the real issue for men, which also is a result of patriarchy. Patriarchy has not only oppressed women, but it also includes oppression of men by men. Our ancestors as a society have created a set of norms which has defined what and how a man should be and what is the place of a woman. These patriarchal norms have become so deep rooted that we have normalised that the man in the family has to work and women has to look after the household. While women working and establishing themselves at workplaces just like men, has become a normal thing, men as homemaker is yet a taboo. This happens only because as per the patriarchal norms it is unacceptable and such roles created in the past have become a prototype. Feminism tends to break these rules. It seeks to establish equality.
Feminist Jurisprudence is philosophy of law which studies the social, economic and political equality between the sexes. Although there are different schools of feminist jurisprudence, all of them agree on the point that throughout the history women have been suppressed and the only reason for that suppression is physical differences. Due to the fact that men were physically stronger, they could dominate the women completely ignoring the fact that even though men and women are built different, women are intellectually, psychologically, morally and socially equal to men. Men are no superior to other gender.
Law has played an important role for women to achieve equality and justice. Women in most parts of the world have voting rights, education rights, right to profession, right to contest election etc. But, there is still a lot to do. There are instances where the legal system has also treated women like chattel, as if the rights being granted were theirs to give. Here comes another social media post asking what the fight is for,
MISOGYNY: THROUGH A LEGAL SPECTACLE
The Constitution of India through article 14, 15, 16 and 21 had sought to establish equality between men and women. It has been clearly expressed in article 14 that no one shall be denied equality before law or equal protection of law. Section 16 lays down provision for equal opportunity in public employment and section 21 speaks for right to protection of life and liberty. These are the human rights protected by the Constitution of India. Apart from we have Protection of Women Against Domestic Violence Act, the Dowry Prohibition Act,
Prohibition of Child Marriage act, Special Marriage Act, Indian Divorce Act, Maternity Benefit Act, Sexual Harassment Of Women at Workplace Act and the list goes longer.
So many acts still such hue and cry. If we look closely around us, the facial picture and the reality within is different.
We do not have to focus on the sexual harassment issue, though it is the harshest example of misogyny, let's take a different example. Recently, the Supreme Court of India has decided the case Ankita Meena v. University of Delhi, in which the Court directed the university to issue the result of the Petitioner. However, the petition was filed in 2018 before the Delhi High Court stating the facts that she could not attend the minimum number of classes due to her pregnancy and the teacher's strike which the High Court dismissed stating "If a law student does not attend lectures or obtain the requisite percentage of attendance, he cannot think of taking a leap to another year of study. Mercy does not come to his aid as law requires a student to digest his experience and gradually discover his own ignorance and put a progressive step thereafter". And the same was denied to her even after the SC's orders for which she had to approach the court thrice.
This case comes as an embarrassment on the face of society who has the audacity to ask the women what they are crying for where they are forcing them to choose between education and motherhood. Despite having enforced Maternity Benefit Act, the HC failed to consider her case.
If we take into consideration the issue of education, even though the constitution provides women right to education as fundamental right, several rural areas of our country do not consider it proper for their daughters and wives to step outside the house for proper education and profession. The law indeed recognises these rights, the society still looks at women as their property.
In the now very well known case W.Kalyani v. State Tr.Insp.Of Police & Anr, the court held that only men can be prosecuted for adultery and not men. Though the provision for adultery has been quashed as a criminal wrong, it is actually quite late for same. This law till now did not only just treat as a property of their husband, but, it also treated them as if women do not have the mental capacity on what is happening. If a woman gets involved in illegitimate relationship with a man, she would also be liable for it because she knows what she is doing. Exempting her from liability of acts done by her is also gender bias. Although this provision has been removed, it took a long time for the judiciary to understand a simple concept that women are individual beings and not merely someone's wife.
In Sri Rakesh B v. State of Karnataka, which deals with rape, the court has very vehemently stated "the explanation offered by the complainant that after the perpetration of the act she was tired and fell asleep, is unbecoming of an Indian woman; that is not the way our women react when they are ravished". Even if the allegations come out to be false, such statement by the judges in the court strips the lady out of her dignity. Such instances discourage the even those who have truly suffered sexual atrocities.
The fact is, this is not the only incident where such abhorrent remarks have been made by the courts. The recent incident where the CJI asked a man if he would marry the girl who he allegedly raped multiple times is an example hoe compromise is sought out as a solution for snatching away a woman's bodily autonomy and her honour.
Further in V. V. Prabhakaran v. T. Chandramathi, the Kerala High Court quoted kautilya "wife should be minister in purpose, slave in duty, Lakshmi in appearance, Earth in patience, Mother in love and prostitute in bed".
These are just a few examples. There are many such statements given our learned judiciary who is bestowed with the responsibility of safeguarding citizens' rights and maintaining a balance. And the fact the judiciary is using such language becomes disturbing because we expect these people to guide the society in the rightful directions. Even the statement given is not the deciding statement, if it is given by the learned judiciary it is going to leave an impact on the general public. We can never forget that our society is divided in for and against any of the concerning issue and many would deem it fit for a rapist to marry the girl he raped completely forgetting the fact that even though she becomes his wife, the previous act will still be a rape.
Apart from these cases, the prostitutes in India still are not treated as a human beings. The women working at the brothels in the redlight areas, most of them earn money as a daily wage earner. Most of these women have begun this work either because of poverty or exploitation. They face several health issues. We presently do not have any policies for sex workers. Even during the pandemic when everybody was seeking relaxation from government, nobody looked forward towards them as if they are not even human beings.
Even in vikram tiwari's case where the administration was largely at fault, the gendered right wing people were focussing on how women empowerment laws are being misused instead of highlighting the lacunae in the administration.
However, the fact that we have PWDV Act but even today women face death at the hands of their beloved husbands because they refuse to serve tea.
CONCLUSION
There is so much to tell on the question constantly being put up on what is the need of feminism, women today have all rights. But cutting to the short, the answer is NO! Women do not get to enjoy all the rights being provided to the by the statutes. The clear reason for it being patriarchy, father's patriarchy over daughter, husband's over wife and brother's over her sister.
Even today, in 2021, women still face Victorian-era mentality. There are countries Honduras, El Salvador, Nicaragua where abortion is prohibited. Several states in USA such as Louisiana, Mississippi, Ohio and Georgia have also passed bills which prohibit abortion in almost all situations which includes rape too. These bills are called "heartbeat" bills. This deprives a woman of her bodily autonomy to have children and choice of motherhood. A woman has right to choose whether she wants a child or not, with whom she wants a child and when she wants a child.
Ayesha Bano in India killed herself because of dowry. Many Muslim states do not allow women to travel without their husband or their husband's permission. Again, in Mali little girls faced sexual violence because they were not dressed as per the codes fixed by the armed group.
While it may seem to some people that women have been given equal rights, look beyond the facial pretence of equality. Just because one does not realize the prevailing inequality it does not mean it is extinct. Human beings have been gifted with the capacity to think and contribute to this society, unlike animals whose only purpose is survival. Before understanding the real fight, even if the issues are as big as sexual violence over children as punishment or as small as right to choice of clothes, we should stop disgracing feminism just because toxic masculinity also exist.

"Loved reading this piece by
Pallavi Singh
?
Join LAWyersClubIndia's network for daily News Updates, Judgment Summaries, Articles, Forum Threads, Online Law Courses, and MUCH MORE!!"
Tags :
Others