Corporate law and financial law are subjects that provide enormous opportunities in India. An individual trained in these fields can look forward to a variety of options to satisfy their personal and professional growth. While traditional courses are numerous, now is the time to explore blended learning programs.
Jindal Global Law School (JGLS), India's no. 1 law school has launched a first-of-its-kind LL.M. in Corporate and Financial Law in a blended learning format, powered by upGrad, that will help legal professionals gain the specialization they are looking for.
Why Students are Choosing JGLS
Why should you choose Corporate and Financial Law? Because it can help you get job opportunities at competitive positions in top law firms or in-house legal departments that are looking to recruit individuals with exposure to company law, corporate transactions, M&A, banking, insolvency, etc.
Let's explore some of the career opportunities that this LL.M. program will lead you.
What is the career scope in corporate and financial law?
Lawyers need to have a keen analytical, presentation, and contextual skills. Therefore, choosing the right program is vital as it can enhance the ability to take on various roles in the legal industry.
A corporate and financial law professional is tasked with wearing multiple hats during their career. Below are some of the areas where they need to have the expertise to become a well-rounded corporate legal professional. The top law firms and companies are always on the look-out for such professionals.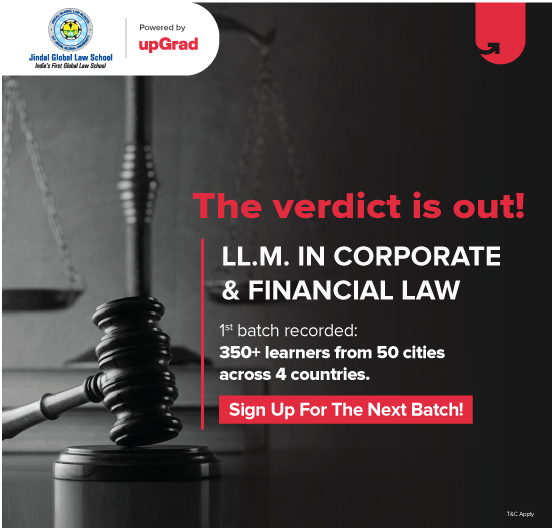 Area: Corporate and Financial Law
Industry Specifics: Across all companies, law firms, and litigation
Corporate and financial lawyers are in great demand. Companies are looking for a corporate lawyer who is dedicated to their organization and is well-versed in both corporate and financial legal aspects of the market.
As a corporate and/or financial lawyer, you have to be proficient in all fields concerning finance, banking, commerce, compliance, and regulation. You will require keen analytical, legal, and strategic decision-making skills, which will allow you to draft and interpret commercial contracts, negotiate deals, and provide legal advice to the companies that you represent.
Area: Mergers and Acquisitions (M&A)
Industry Specifics: Across all companies - start-ups, mid-sized, MNCs, conglomerates, etc.
In today's world, mergers and acquisitions are the order of the day, and professionals must be well-versed in both national and international law dealing with M&A. The finer points of M&A require due diligence, which is key to corporate commercial transactions. As an M&A lawyer, you should be primed for due diligence, drafting exercises, and risk assessment procedures, which is a vital aspect for corporations and instrumental in how they make business decisions.
For example, an acquiring company should undertake due diligence to value the target entity, and the legal professional must use all their acumen to analyze the legal aspects of the deal. Nothing can be left to providence as all actions involving the valuation can affect the companies concerned, and it can make or break the deal's success.
Transactional planning, legal due diligence, and preparation of investment strategies are vital to the success of mergers and acquisitions. This work will culminate into the submissions you make before regulatory bodies like SEBI, National Company Law Tribunal, and Competition Commission of India, which will require companies (and their lawyers) to cover all aspects and leave no stone unturned.
Area: Banking & Finance Operations
Industry Specifics: Banks, Financial Institutions, Insurance Companies, Broking Houses
Banks, Non-Banking Financial Companies, and other financial institutions are an integral part of the economy and have prospered with the growth of India Inc. They play a vital role in providing credit, which is essential for the economy to grow faster.
While finance plays an important role in the economy, its role within an organization can never be downplayed. As a financial lawyer, you will need to cover an entire spectrum of transactions concerning the kind and transfer of credit to companies, as well as the legal framework of such transactions and operations. It is vital to have a keen understanding of different types of financial arrangements and their effects, from a legal and commercial standpoint.
Challenge yourself to become an exceptional professional. Use your analytical and legal skills to prove your mantle in the banking industry and be a pillar of strength in the growth of an institution.
Area: Insolvency Law
Industry Specifics: Across all law firms, companies, and litigation
The Indian insolvency system underwent a complete overhaul with the introduction of the Insolvency and Bankruptcy Code (IBC) in 2016. Previously, there was a plethora of legislation governing different stages of corporate debt resolution and applicable to different categories of stakeholders, and the piecemeal nature of the legislation made the system of grievance redressal for stakeholders very cumbersome.
The government enacted the IBC to streamline the insolvency and bankruptcy system so that the debt resolution process can be unclogged and made more investment-friendly and favorable to creditors, thereby boosting the country's investment climate. This LL.M. program will be focusing on the corporate insolvency process under the IBC.
You should be well-versed in various facets of corporate insolvency, including adjudication processes before the National Company Law Tribunal, National Company Law Appellate Tribunal, the Supreme Court of India. Develop your deal-making abilities and get a grasp of the intricacies of corporate insolvency in India and the procedures and practices thereof.
Roles in Policy Think Tanks and Advising Governmental Institutions
The LL.M. program will also prepare learners to focus on specialized areas of research, often required of public policy professionals tasked with preparing drafts and comments on laws and amendments in the fields of corporate law, banking & finance, insolvency, investment, and competition regulations.
All these areas and much more would be covered, with industry-based examples, as part of the course curriculum with Jindal Global Law School's LL.M. in Corporate & Financial Law (Blended Learning Program), powered by upGrad.
What are some of the roles that a corporate & financial law professional would take up as they grow at law firms or companies?
Through the LL.M. program, a holistic approach to law is acquired where learners are provided with exposure to a gamut of Indian laws, rules, and regulations governing corporate and financial issues while complementing international best practices. The skills and knowledge of an updated lawyer are incomparable and crucial for future professional growth.
Here we are capturing a few job opportunities that a learner can look forward to, while they grow in the profession.
Some aspirational roles for mid-level to senior-level legal professionals.
General Counsel in top MNCs, Indian Conglomerates, Mid-Sized companies, or Start-ups
A General Counsel, or Legal Manager or Chief Legal Officer acts as the chief attorney of the company and heads the legal department within the corporate office. General Counsel can be termed as a senior position that finalizes legal strategy and manages other legal professionals in the organization. The scope of work may include - ;
• Advising senior executives, key managerial personnel, and the Board of Directors on legal matters concerning the company's operations, and updates regarding new laws.
• Managing the organization's legal affairs.
• Drafting and reviewing different statutory and legal submissions, including authoritative legal opinions.
• Examining and drafting agreements, like employment and vendor contracts.
• Managing knowledge of the organization's operations and legalities involved and monitoring legal agreements.
• Leading legal research and evaluating the company's litigation strategy concerning legal actions.
• Liaising with outside counsel regarding M&A, investments, and/or litigation matters.
• Creating and managing the organization's intellectual property.
Partner / Managing Partner in Law Firms
It's a long journey to becoming a partner in the firm. Partners are responsible for leading, getting new clients and business, establishing a brand, and managing people in their team. Partners are also well compensated depending on their financial performance and contribution to the firm.
Job responsibilities include, but are not limited to the following:
• Bringing onboard potential new clients through business development meetings
• To assure that there is the effective delivery of the firm's services to its clients and profitably ensure the same.
• Instituting organizational, financial, and operational strategies of the firm through strategic thinking.
• Creating revenue through client management.
Commercial/Corporate Litigation Professional
Another career path that can be pursued posts this LL.M. program is a litigation professional specializing in areas of corporate, competition, banking, financial, and insolvency laws. With the proliferation of tribunalisation of India's legal system and with the enactment of multiple laws and regulators to govern these laws, there is a requirement of skilled, articulate, and knowledgeable advocates to appear before these regulators and courts of law. A successful career in litigation will ensure a handsome income as well as recognition from both judges and other advocates as an expert in corporate and financial law.
Conclusion
Do remember, our LL.M. program helps learners become multi-faceted. At the end of the program, you will be well-versed in the entire spectrum of financial and corporate laws, which will enable you to take on any one of the jobs mentioned above, during your future legal journey. While the program enables learners to understand the nuances of laws governing corporate, banking, securities, insolvency, and competition, it is ultimately your hard work and dedication that will help you achieve your goals.
A brief about the program: Our first-of-its-kind program -; LL.M. in Corporate & Financial Law (Blended Learning Program) is convenient and timely. The program is from the world-renowned Jindal Global Law School and is powered by upGrad. This program has a state-of-the-art curriculum with an exhaustive and in-depth approach to the management of companies. It aims to attain a perfect synergy of financial growth and the company's overall stability and reliability.
"Loved reading this piece by
Guest
?
Join LAWyersClubIndia's network for daily News Updates, Judgment Summaries, Articles, Forum Threads, Online Law Courses, and MUCH MORE!!"
Tags :
students