THE ORDER :
• The Apex Court on 25.06.2020 (Thursday) dismissed the petition challenging the report on sexual harassment allegations against a Judicial Officer of Madhya Pradesh.
• This report was submitted by the Gender Sensitization and Internal Complaint Committee inquiring into these allegations. A show-cause notice was also issued to him based on this report.
• The Court stated that this petition could not be raised under Article 32 of the Constitution and asked the petitioner to approach the High Court of Madhya Pradesh.
• The bench consisted of Justices Indira Banerjee & Surya Kant.
THE PETITION :
•The petitioner contended that the report submitted by committee was 'arbitrary' and 'illegal' as per Section 10 of the POSH Act.
• As per the petition, the committee did not comply with the procedures laid down by the Sexual Harassment of Women at Workplace (Prevention, Prohibition and Redressal) Act, 2013 ('POSH Act') and the provisions of Gender Sensitization And Sexual Harassment Of Women At The High Court of Madhya Pradesh And Its Subordinate Courts (Prevention, Prohibition and Redressal) Regulations,2015.
• The petition also contended there has been gross the injustice of 'principles of natural justice' as the allegations against the petitioner has not been proved yet by the committee.
• The Writ The petition also raised fundamental questions regarding the guarantee of service tenure, the guarantee of personal liberty and reputation in service, right to lead dignified life with status and guarantee against unwanted, unreasonable and the arbitrary action of holding a repeated investigation.
• Complaint against the petitioner was submitted by a lady Judicial Officer of the Subordinate Judicial Service, alleging sexual harassment at workplace on 07.03.2018.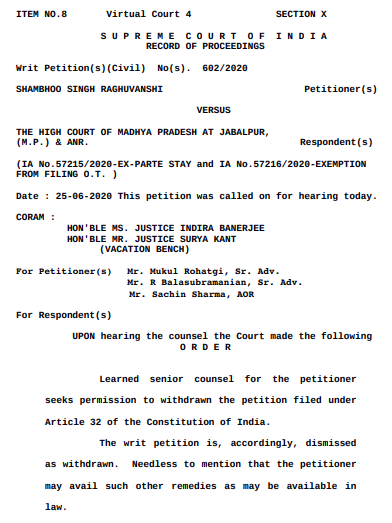 "Loved reading this piece by
Nikitha Mathew
?
Join LAWyersClubIndia's network for daily News Updates, Judgment Summaries, Articles, Forum Threads, Online Law Courses, and MUCH MORE!!"