It has not been a while since the incidents of broad day light murders in Faridabad, Hyderabad and U.P and now we see yet another one in Guwahati Assam. This time it was the brutal murder of 26-year-old Rituparna Pegu, a husband and a father, at noon last Friday (12th June, 2020)
The unfortunate incident took place as a result of a heated debate between Mr. Pegu as resident at the Commerce College area, and his former colleague Mr. Hussain Ali over a trivial matter involving a chair. This argument slowly escalated, which resulted in Hussain Ali calling out for his family for assistance. Soon, the interaction turned into a physical fight which ended with Hussain Ali stabbing Rituparna Pegu from behind on the neck using a knife. Mr. Pegu immediately collapsed onto the roadside in front of Armaan House Furniture, where the incident had taken place.
The police and public rushed to the site of murder and arranged for the victim to be taken to the hospital. Alas, the doctors at the Gate Hospital declared him as dead on arrival.
A CCTV footage of a shop has recorded the entire incident and it is based on this that the police has arrested 5 individuals- Dulal Ali, Ibrahim Ali, Munawara Khatun, Hussain Ali, and Armaan Ali, who are accused of this alleged murder and a case has been filed at the local police station. According to Officer-in-Charge of Noonmati police station-Rajib Baruah, these individuals have been charged under Sections 147,148,149,302 of the IPC.
The investigation of the case has been ordered to be handed over to the CID, by SarbanandaSonowal, Assam Chief Minister. Moreover, he has also orrdered for the matter to be tried in the fast track court for speedy justice as well as stringent punishmets.
Assam Police Additional Director General (CID) L R Bishnoi said his department has already begun probing the murder and tweeted that "CID, Assam will ensure that the case is investigated properly & expeditiously".
Further, AIUDF Chief maulana Badruddin Ajmal has demanded for stringent justice and trial in the fast track court and expressed that the Ajmal Foundation would extend financial support of Rs. 1 L to Pegu family.
As this incident had occurred in broad day light in a significantly crowded area, several videos including the CCTV camera footage has been circulated through the internet and on social media through #RituparnaPegu. A video of Mr. Pegu and his helpless wife along with their baby boy has triggered reactions from across the country. Many citizens and activities took out on the streets demanding justice and death penalties for the accused. Also, the incident has also raised a lot of unrest by giving it a communal angle as the deceased was a Sential Hindu whereas all the accused in the incident were Muslims.
Such incidents are on the rise in our society, it is high time that this ends. Answers to why such brutal murders occur? Is it because of lack of enforcement of law? Still remain unanswered.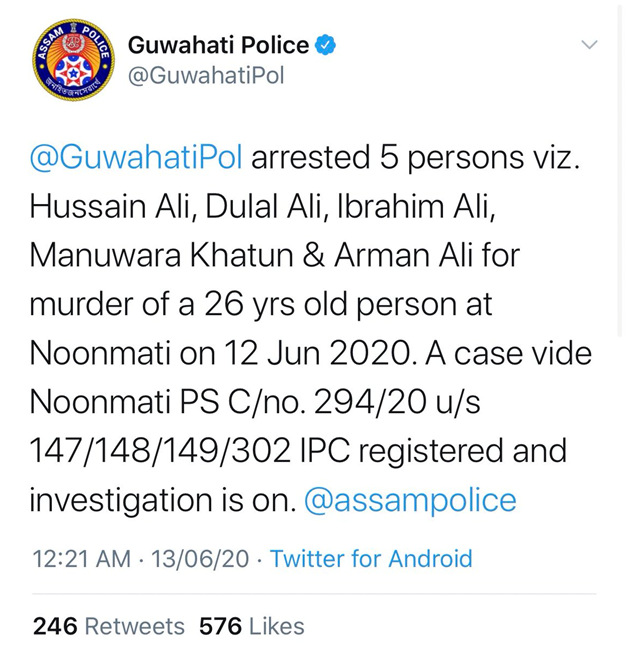 Sources:
https://swarajyamag.com/insta/guwahati-five-arrested-for-brutal-murder-of-26-year-old-rituparna-pegu-in-broad-daylight-after-argument-over-a-seat
https://www.hindustantimes.com/india-news/youth-murdered-by-former-colleagues-in-guwahati-5-arrested/story-52GG7MtZtaW1XAydyLQN2L.html
https://www.indiatoday.in/india/story/assam-man-stabbed-to-death-after-rift-over-chair-in-guwahati-5-arrested-1688824-2020-06-14
https://newslivetv.com/murder-of-rituparna-pegu-sparks-outrage-in-guwahati/
"Loved reading this piece by
Meenakshi Nair
?
Join LAWyersClubIndia's network for daily News Updates, Judgment Summaries, Articles, Forum Threads, Online Law Courses, and MUCH MORE!!"
Tags :
criminal law