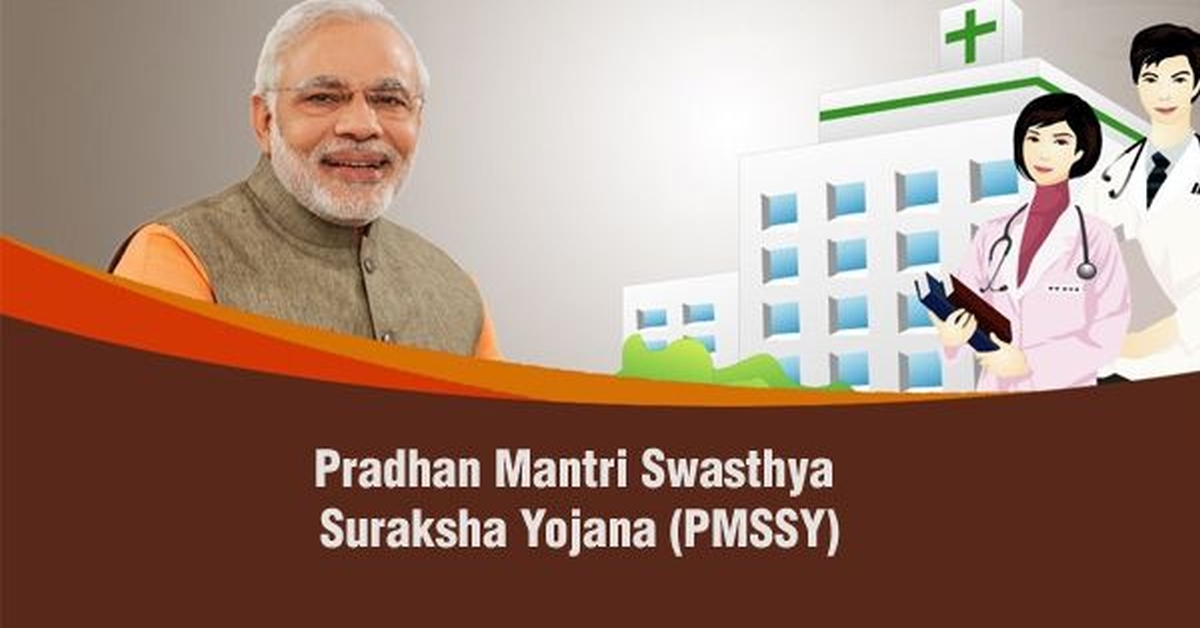 It has been persistently told by our ancestors, that "A healthy mind always stays in a healthy body" and to secure this basic principle of survival, various policies and schemes are formulated under the concept of Social Security for the welfare of society. As it is rightly quoted, that
"Social Security is not only indispensable to Human Rights but are fundamental & inherent for its effective existence".
In March 2006, the first step that could be traced to bring one of the facet of Social Security into effect, exclusively including the Right to Health and Medical care (Fundamental Right under Article-21 of Indian Constitution as recognised by our Hon'ble Supreme Court)[i] is the initiation of the PRADHAN MANTRI SWASTHYA SURAKSHA YOJNA (PMSSY), which is "aimed of correcting the imbalances in availability of affordable/reliable tertiary level healthcare in the country generally and to augment facilities for quality medical education in the under-served States."[ii]
The need of the same turned up after noting the increasing trends of deaths in low or middle-class groups which accounts for one million losses of life per year and the sole reason that was recorded behind these tragic incidents connotes to inadequate healthcare facilities or no access to specialist care, because 80% of multi-speciality departments are in Urban areas. Furthermore, India faces a draconian problem of having just 0.7 hospital beds per 1000 population which is extremely low if compared to the world average of 4 beds per 1000 population. [iv]
To quote other problems, the public funding in healthcare sector accounts only for 22% and remaining private expenditure of 78% is out-of-the-pocket expense of the patient itself and, the life expectancy of BIMARU (Bihar, Madhya Pradesh, Rajasthan & Uttar Pradesh) states accounts for the lowest if compared to the remaining ones and the source of these clearly amounts from the bad economic status of these states.[v]
After analysing these devil propositions already existing in the society, a two-way strategy (Refer IMAGE 1) was adopted, which is bifurcated into the following phases. [vi]
This initiative is taken to lower down the disparity between the hike of expenditure on medical treatment noted and dipping down of the per capita income, which it seemed to be ₹33/day[vii] which 75% of the total rural population is earning at present.
Moreover, it is a step which is adored by all the citizens as it has provided a hope to the common people who were before unable to afford a world-class treatment are now in reach for getting their treatment in the Speciality Blocks which are aided with top-class technology.[ix] Furthermore, it has provided an increased scope of research for the scholars, enhanced the number of hospital beds per 1000 population, established 15-20 super-speciality departments and 3 trauma centres with an efficiency of 100% which is achieved by establishing new AIIMS and upgradation of GMC which have taken uniformly throughout the Nation.[x]
The significance of this could connote towards the increase in the living standards[xi] of the nationals as well as have provided a boost in the employment sector, ranging from the labour class to the high professionals. And this aspect when conjoined with the Prime Minister Employment Generation Programme (PMEGP: though it is for MSME) will help to achieve the 7.3% GDP growth mark as expected to do, in reference to the report of World Bank in 2018. Moving forward, the Union Health Minister Mr J.P. Nadda quoted the benefits of the scheme by laying down the following points that:
Each new AIIMS will add 100 U.G. (MBBS) and 60 B.Sc. (Nursing).
According to the data of already functional AIIMS, it is expected that each new AIIMS would cater to around 1,500 OPD patients/day and around 1,000 IPD patients/month. [xii]
While analysing all these dimensions, great progress is noted in this field from the past 15 years. The same could be traced from the pattern of approved sanction towards this project, which is constantly increasing due to adjustment towards the cost of living index.
Moreover, the establishment of 6 new AIIMS which were proposed in the first phase is now functional providing regular OPD and IPD sessions as well as have raised approx. 4000 job opportunities in various sections. [xv] They have also started their academic session, providing 300 seats per year for M.B.B.S. course. The first phase also accounts for the upgradation of 13 Government Medical Institutions(GMIs) whose work is fully completed and are working with full-fledged efficiency.[xvi] Furthermore, the Second phase is also on the verge of its completion in terms of upgradation of GMIs[xvii] and allocation of funds for the establishment of 2 news AIIMS (Rai Bareli & Raiganj) in this have also been granted by Central Government.
Phase-3 proposed upgradation of 39 GMIs[xviii] and the fund allocation of ₹120 Cr. by the Central Government is made to all the state governments for initiating the process of upgradation as well as initiated the process of Phase-4 by approving cost of ₹200 Cr. for 12+1 GMIs on the requests made by the desired State Governments, which is followed by the laying down of the foundation of Phase-5A for the upgradation of Institute of Medical Sciences (BHU) and Tirunal Institute of Medical Sciences & Technology, Thiruvananthapuram (Kerala) at an approved cost of ₹230 Crores.
Taking the quality of Healthcare facilities to another level Phase-IV, Phase-V and Phase-VI have provided the establishment of 4+6+2 new AIIMS, respectively. The newest one being at Deogarh, Jharkhand. And the progress report of these AIIMS is that it has been finalised by the Central Government, but waits for the response of the respective State Governments. [xix]
In my view, it is a must needed step, because where people are not wanting to get their health insured, at any cost the prevention means in the form of providing affordable medical care is the utmost want of the day. But another thing which is needed to be considered is that the appointment of doctors in all these prime institutions needed to be made on very high standards because of the threshold of cases and their complexity is of the highest order which these institutions are facing. If we compare the appointments of patient's statistics, that are taken for these medical institutes, shows disparity as AIIMS, New Delhi accounts for 682788 appointments till date, whereas other institutes are not even close of its' number. [xx]
Therefore, in lieu of the same I just need to propose a suggestion that it is good to enhance and improve the medical facilities, but to motivate these factors for producing viable results a balance needed to be maintained in the growth of population, because at present it is our human resource but if it increases rapidly, it could become a very big problem.
Further, this step has revolutionised the Medical Facility in India and the same was aided by launching the Ayushmaan Bharat Scheme.
So, to conclude, I would like to say,
"Respect and love yourself, as they are valuable assets and live a healthy life because being healthy is not a trend but is a LIFESTYLE!"
HEAD-NOTES
[i] State of Punjab v. M.S. Chawla, A.I.R. (1997) S.C. 1225 (India).
[ii] Government of India (Ministry of Health & Family Welfare), History of PMSSY, PMSSY MOHFW GOI (May 20, 2018, 01:56 PM), http://pmssy-mohfw.nic.in/history.aspx.
[iii] Insights IAS, PMSSY, INSIGHTS IAS (May 20, 2018, 05:52 PM), http://www.insightsonindia.com/2018/05/03/insights-daily-current-affairs-03-may-2018/pradhan-mantri-swasthya-suraksha-yojanapmssy/.
[iv] Ibid.
[v] Indus Health Plus, Health Statistics of India, INDUS HEALTH PLUS (May 20, 2018, 04:27 PM), https://www.indushealthplus.com/health-statistics-of-india.html.
[vi] Vikaspedia, Pradhan Mantri Swasthya Suraksha Yojana (PMSSY), VIKASPEDIA (May 20, 2018, 06:37 PM), http://vikaspedia.in/health/nrhm/national-health-programmes-1/pradhan-mantri-swasthya-suraksha-yojana-pmssy.
[vii] Saumya Tewari, 75% of Rural India survives on ₹33 per day, INDIA TODAY (May 20, 2018, 06:46 PM), https://www.indiatoday.in/india/story/india-rural-household-650-millions-live-on-rs-33-per-day-282195-2015-07-13.
[viii] Devjyot Ghoshal, Charted: The astonishing cost of healthcare in India, QUARTZ INDIA (May 20, 2018, 06:52 PM), https://qz.com/663718/charted-the-incredible-rise-in-the-cost-of-healthcare-in-india/.
[ix] Government of India (Ministry of Health & Family Welfare), PMSSY-Expanding Capacity and Enhancing Quality, PMSSY MOHFW GOI (May 21, 2018, 07:30 AM), http://pmssy-mohfw.nic.in/expand_quality.aspx.
[x] Ministry of Health and Family Welfare, Significance of PMSSY, TWITTER (May 20, 2018, 07:10 PM), https://twitter.com/MoHFW_INDIA/status/870210825264537601.
[xi] Jahnavi Sen, India ranked 131 on Human Development Index; Inequalities continue, THE WIRE (May 20, 2018, 06:05 AM), https://thewire.in/rights/human-development-index-india.
[xii] The Economic Times, Cabinet approves the continuation of PMSSY beyond 12th Five Year Plan to 2019 to 2020, THE ECONOMIC TIMES (May 20, 2018, 08:10 PM), https://economictimes.indiatimes.com/news/economy/policy/cabinet-approves-continuation-of-pmssy-beyond-12th-five-year-plan-to-2019-20/articleshow/64003020.cms.
[xiii] Ministry of Health, supra x.
[xiv] Jai Mishra, Pradhan Mantri Swasthya Suraksha Yojana Himachal Pradesh, MY GOVERNMENT SCHEMES (May 21, 2018, 06:30 AM), https://www.mygovernmentschemes.com/pradhan-mantri-swasthya-suraksha-yojana-himachal-pradesh/.
[xv] Government of India (Ministry of Health & Family Welfare), New All India Institute of Medical Sciences, PMSSY MOHFW GOI (May 21, 2018, 06:50 AM), http://pmssy-mohfw.nic.in/newaiimsstatus.aspx.
[xvi] Government of India (Ministry of Health & Family Welfare), Upgradation of Medical Institutions under PMSSY, PMSSY MOHFW GOI (May 21, 2018, 06:57 AM), http://pmssy-mohfw.nic.in/phasei.aspx.
[xvii] Government of India (Ministry of Health & Family Welfare), About PMSSY, PMSSY MOHFW GOI (May 21, 2018, 07:37 AM), http://pmssy-mohfw.nic.in/listofcolleges.aspx.
[xviii] Ibid.
[xix] Government of India, supra xvii.
[xx] Government of India (Ministry of Electronics & Information Technology), Total Online Appointment(s), ONLINE REGISTRATION SYSTEM MOEIT GOI (May 21, 2018, 07:51 AM), https://ors.gov.in/copp/AppDetails.jsp.
Tags :