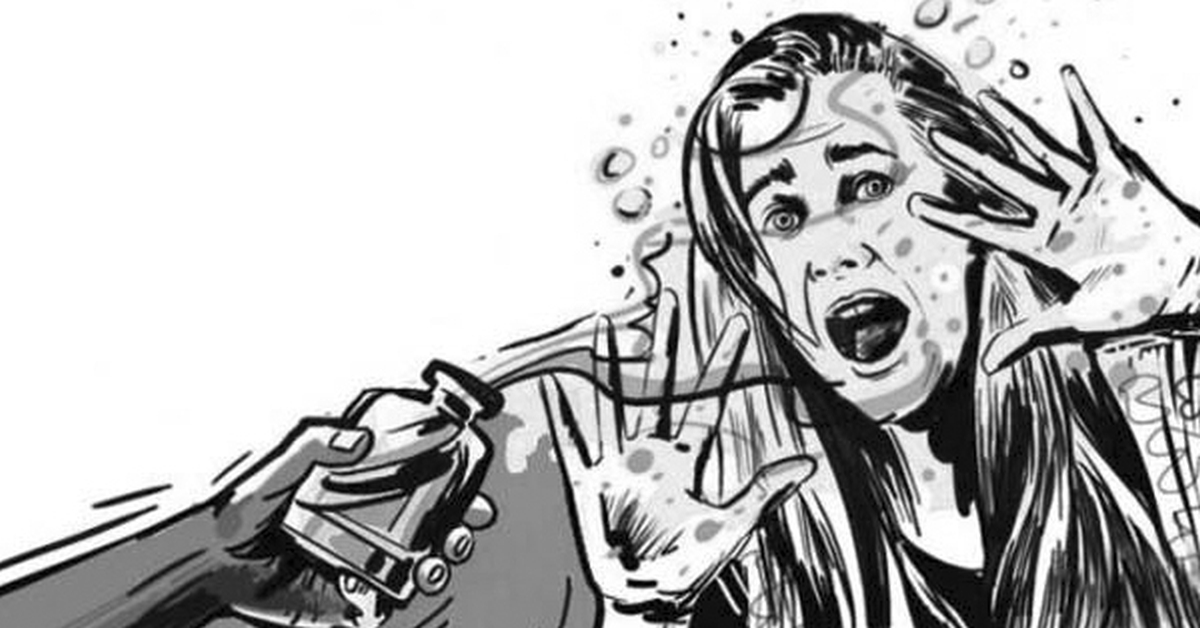 DEFINITION:
Acid attack refers to a violent assault involving the throwing of acid on any other person- "with the intention to disfigure, maim, torture, or kill."
DEFINITION OF ACID AS DEFINED IN THE INDIAN PENAL CODE:
According to the Section 326(A) of Indian Penal Code "Acid" includes any substance which has acidic or corrosive character or burning nature that is capable of causing bodily injury leading to scars, disfigurement, or temporary or permanent disability. The long term consequences of these attacks may include blindness, as well as permanent scarring of face and body, along with far-reaching social, psychological, and economic difficulties.
INTRODUCTION:
In India, there are many reasons which cause a person to act so brutally towards the other. Some cases reported are the cause of rejection of marriage proposals, refusal to intimate relation, personal conflicts, or disagreement to pay dowry. The victims of acid attacks are subjected to temporary or permanent physical body disfigurement and often suffer mental trauma as well. Many cases of acid attacks in India end with the victim committing suicide.
Acid, being a chemical substance with immediate action can disfigure a person either temporarily or permanently. Some strong acids can even cause immediate death. Most acid attacks are made with the purpose of disfiguring the victim and not to kill.
CAUSES OF ACID ATTACKS IN INDIA:
Some basic causes of Acid Attacks in India have been reported to be:
Personal conflicts
Rejection of marriage proposals
Land or, property disputes
Family arguments
Refusal to intimate relation
Disagreement to pay dowry
The interpersonal feelings that cause such rage inside a person to make him/her want to commit such a heinous crime include: male shame, powerlessness, antisocial behaviour, short temper, hormonal imbalances causing rage.
Such attacks are often observed in families with low educational levels and less knowledge of the consequences of throwing acid on someone. Various personal issues such as: irritation over any situation, anger over an argument, issues related to non-payment of the dowry, ext have lead to acid attacks all over the country. Such crimes can greatly be minimized if the consequences of acid throwing are taught in schools and further early stages of education.
Weak Legislation is also one of the reasons for acid attacks in India. India is one of the most unsafe counties for women after dark. Stringent laws should be introduced for prevention of such crimes, to fight the culprits of acid attacks and further improve compensation schemes for the victims. Further, better implementation of the current laws for prevention and protection from acid attacks should be done.
REMEDIES TO PREVENT ACID ATTACKS:
Spreading awareness about the Causes, Consequences, and further Prevention: There should be more educational teaching about the outcome of such heinous crimes. The strictness of punishment should be well communicated and a fear in the mind of the culprit should be created about the consequences of committing such a crime.
NGOs and International Organisations: Such organizations acting as the voice of the people can help speed up the awareness about the topic as well as help provide compensation to the victims. Such organizations can further motivate people into better anger management.
Justice for the Victims: A good judicial plan for dealing with such crimes help. The culprit should face some serious charges and punishments while the victims must be provided compensation as well as monetary and moral support by the society and the government.
LEGAL PUNISHMENT FOR THE CRIME OF ACID THROWING:

Up until the 2013 amendment to Section 326 of the Indian Penal Code (i.e. Voluntarily causing grievous hurt by dangerous weapons or means), there had been no specific legislation to deal with or try the cases of acid attack victims. While the Supreme Court in 2013 added article 326(A) and 326(B) as an amendment to Section 326, to deal specifically with the cases of acid attacks.

The minimum punishment under 326(A) is 10 years, while the maximum punishment is life imprisonment. And under Section 326(B), the minimum punishment is 5 years of imprisonment, which can extend up to 7 years.

JUDGEMENT, LAWS, AND ORDERS BY THE COURTS:

The Supreme Court in May 2013, while ruling on the case of a Delhi-based victim, Laxmi Agarwal, gave directions to the states as well as the union territories to regulate the sale of acid and also to frame a policy for the welfare of victims.

The Supreme Court further gave the following directions:

Only Adults (above the age of 18 years) can purchase acid and that too by showing their photo ID and residential address to the seller.

The shopkeeper or the person selling such goods must note the reason for the purchase of acid and the amount sold. For non-compliance of the same Rs. 50,000 would be the penalty.

Certain guidelines must be followed by the institutions while buying and storing acid for work etc.

The State Government should provide Rs. 3 lakh as compensation to the victims as well as ensure free treatment at any hospitals to the victims affected by such crime under sections: 376, 376(A,) 376(B), 376(C), 376(D), or section 376(E) of the Indian penal code.

After the Supreme Court ruling, Punjab, Haryana, and the Union Territory of Chandigarh, in 2015, launched a "Victim Compensation Scheme" which ensured a maximum of Rs. 3 lakh of compensation for the acid attack victims, and less if the acid has not affected the face or any vital organs of the body.

It further provided that, a compensation of Rs. 5 lakh is to be paid to the next generation in case of death of a victim. According to High Court lawyer Hari Chand Arora, the Punjab and Haryana High Court had in May 2014, ordered the Punjab, Haryana and UT governments to pay a monthly assistance to acid attack victims; While Haryana government had begun paying Rs 5,000 per month to victims, it later increased the amount to Rs 8,000 per month, Punjab has begun paying victims Rs 8,000 since November 2017.

CONCLUSION:

The crime of Acid Attack causes so much pain to an individual that the victims often refer to themselves as a walking burned corpse. Such attacks make the lives of the victim no less than hell. In addition to all this, other consequences of such attacks include: scars, disfigurement, permanent damage, melting of eyelids, mental torture, lost vision, etc.

The treatment given to the victims by the society is shameful and they are often rejected in job interviews and have to face a lot of criticism for their looks with absolutely no fault of their own. The survivors of such attacks should be encouraged by the society and the government for their bravery in dealing with the consequences.

Tags :