These days many men are affected by the final order of maintenance towards their wife and are looking for best possible legal option to reduce interim/final maintenance amount or even looking for setting aside the said amount.
The trial courts uses their own methodology to evaluate and measure the quantum of maintenance which may be imposed on to the husband, but what about the husband who is dissatisfied by the order of the trial court in 125 CrPC proceedings?
One of the legal option is to go for revision proceedings in the higher court as appeal against the order under 125 CrPC is not maintainable, but whether you should opt for revision proceedings or not depends on the merit of the case in hand.
A revision in the higher court is of limited purposes only and higher courts have limited jurisdiction to adjudicate or to decide upon the order given by the lower court here are the limitation and scope.
-> The High court will not interfere in the finding of the lower court if the evidence is properly appreciated. Kamla Devi V. Mool Raj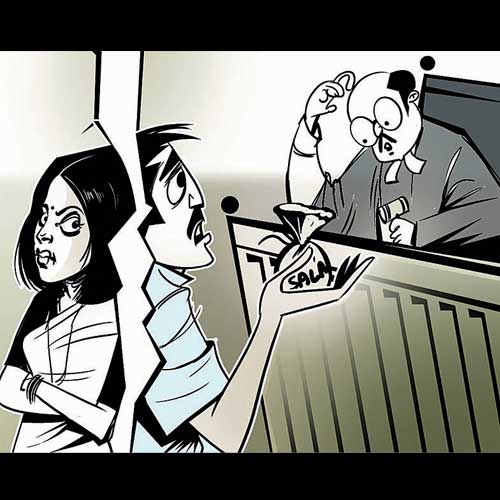 ->If there is a positive finding that husband has failed to maintain wife, therefore the order of maintenance is passed. The Revisional court cannot upset and interfere with the finding of lower court. Munesh Kumari V. sheo Raj Singh
->The questions related to child is illegitimate, is applicant a wife, being pre-eminently questions of fact cannot be reopened and revisional court cannot substitute its own views. Now if the finding of the trial court is that applicant is a legally wedded wife and high court disturbs the finding that applicant is not a legally wedded wife and disturbs the finding this cannot be permitted as the finding would become negative and such findings would have have a long lasting impact on the society with evil consequences.
However if the finding of the high court is negetive than only higher courts have power to interfere with the order. Santosh(smt) V. Naresh Pal
Advocate Nitish Banka
nitish@lexspeak.in
"Loved reading this piece by
Nitish Banka
?
Join LAWyersClubIndia's network for daily News Updates, Judgment Summaries, Articles, Forum Threads, Online Law Courses, and MUCH MORE!!"
Tags :
Family Law